MyVU asked 13 graduating seniors how they found immersion at Vanderbilt and got as many different answers. We're featuring their stories in the lead up to Commencement on May 8.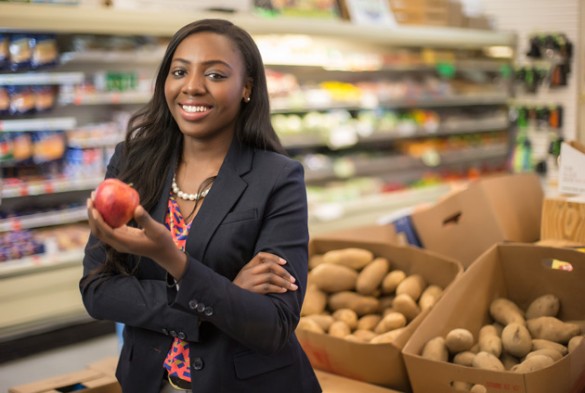 Angela Mosley hails from York, Alabama, a small town in a rural county that remains deeply segregated to this day.
She describes York as a "food desert"—its only grocery store carries very little produce, and what it does carry is expensive. In addition, the nearest health care facilities are a 20-minute drive away. That might not seem very far, but most of the population lives below the poverty line and doesn't have transportation to get there, Mosley said. Hypertension, diabetes and advanced cancers are all too common in York.
For the past two years, the honors psychology major has studied racial and ethnic health disparities in the Southeast with David Schlundt, associate professor of psychology. Mosley knew she wanted to study the subject after taking Schlundt's course on health psychology during her sophomore year. A segment on the health effects of historical trauma resonated immediately with Mosley—she's seen it firsthand.
For her honors thesis, Mosley researched the effects of historical trauma on the health beliefs and behaviors of African Americans in Nashville. She's spent the past two years conducting focus groups with three generations of local African Americans to understand what health and social issues they are concerned about, how they think historical events may have influenced them, and if they perceive connections between the two.
"[rquote]There's this rich history that people have," she said. "That's probably been the most fun part of this—talking to people and hearing different stories."[/rquote]
"I think Angela's experience as a black woman has given her a unique ability to know what her group members mean when they talk about facing discrimination and prejudice," Schlundt said, "while her four years at Vanderbilt have prepared her at the same time to stand back and analyze these experiences as a social scientist."
Mosley hopes to use the data she's collected to develop an assessment tool to help researchers measure the effects of historical trauma on health. After graduation, she'll attend the University of Virginia's pre-medical post-baccalaureate program. "I plan to get an M.D. and M.P.H. and become a physician and clinical researcher in underserved communities," she said.
One day, she hopes her journey will bring her back home to York. Mosley and her twin sister, an education major at Nashville's Belmont University, want to start a nonprofit addressing the health and education disparities they grew up with and "bring a little hope and a little light," Angela said, back to their hometown.