Lee Martin, who's helped hundreds conquer the English language, to retire
by
Kara Furlong
Apr. 29, 2015, 2:21 PM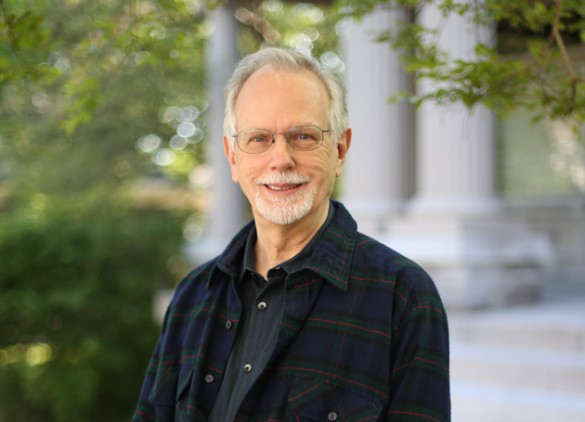 Listen to Lee Martin's crisp diction and steady speech, and it's no surprise he's made a career of helping non-native English speakers communicate better. Hear him talk about his love of languages and cultures, and you get a sense of his depth of service to Vanderbilt's international community.
"I guess I have a bit of an ear for languages, but I don't really consider myself a polyglot. Some people can speak five or 10 languages fluently, and I'm not one of those," Martin said. "But I do enjoy learning about other languages and even learning about my own language. I have found over the years that teaching is the best way to learn. You learn more by teaching something than by studying it or being taught.
"I'm still learning English after all these decades," he said.
Martin, assistant director of the English Language Center, has been affiliated with English as a Second Language instruction at Vanderbilt since it became a full-time service in 1978. His professional interests include pronunciation and accent reduction, pedagogical grammar and classroom teaching. He retires April 30 after 37 years at the university.
Born and raised in Nashville, Martin was once an international student himself. He studied French and received a bachelor of journalism degree from Canada's Carleton University. He first taught ESL to embassy staff in Ottawa while working with the Berlitz language school there. The opportunity to coordinate Vanderbilt's ESL services brought him home.
For nearly 40 years, the English Language Center has been an indispensable resource for the Vanderbilt community, especially as it has become more and more international. Current programs include English for Academics and Professionals, which offers courses in academic writing, academic speaking and pronunciation for those who have a first language other than English and are pursuing academic and professional endeavors at Vanderbilt. The International Teaching Assistants program helps participants become more proficient in pronunciation and refines their presentation skills. And the Discipline-Specific English-Language Programs tailor instruction for groups and individuals at the Owen Graduate School of Management, Vanderbilt Law School and Peabody College of education and human development.
The center also offers conversation-oriented classes for spouses of Vanderbilt's international students and scholars. "A lot of our graduate students have families, with children in the Metro school system. The ramifications for being able to communicate while here are great," he said.
Martin coordinates the ELC's one-to-one writing and speaking consultations. "I only have the greatest respect for people who come from another language and culture to study for a higher degree here," he said. "It's almost unfathomable to me to have the ability to do that.
"Our courses make a significant improvement in their ability to function—not only in the academic context, but also in the community," he said. "At some point, everybody has to buy groceries and things like that. You need language for everything, but it's especially important for an academic career."
"Lee's dedication to teaching has consistently been evidenced through evaluations from students, who on numerous occasions have indicated that their most meaningful and memorable learning experiences on campus have been under his instruction," wrote Susan Barone, director of the English Language Center, in an online tribute to Martin earlier this year.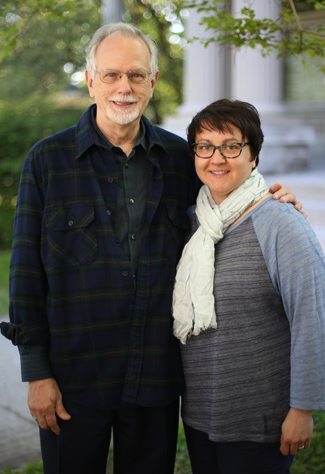 "As a pronunciation specialist, Lee has repeatedly received comments from students about how helpful his instruction was not only to their success while at Vanderbilt, but also to their job opportunities and advancements once back in their home countries," she wrote. "He has hosted generations of students, with children and nieces and nephews of some of his first students making their way to Vanderbilt as students themselves."
Martin earned a master's degree in linguistics from the University of Surrey (UK) and has been a member of the Vanderbilt Writing Advisory Board. He is a longtime member of TESOL (Teaching English to Speakers of Other Languages) and was editor of the TNTESOL Newsletter from 2004 to 2013 as well as served on the TNTESOL Board of Directors and the TNTESOL Journal editorial board.
Martin said he has picked up some Spanish, Italian, Greek and even Sanskrit over the years in his travels to Europe, Italy, Greece and India. It's no wonder that a favorite part of his job has always been discovering new worlds through his students.
"They teach me as much as I teach them—maybe more at times," he said. "I love to travel, but I can't go everywhere. Having students bring their languages and cultures to me has been the next best thing."