MyVU asked 13 graduating seniors how they found immersion at Vanderbilt and got as many different answers. We're featuring their stories in the lead up to Commencement on May 8.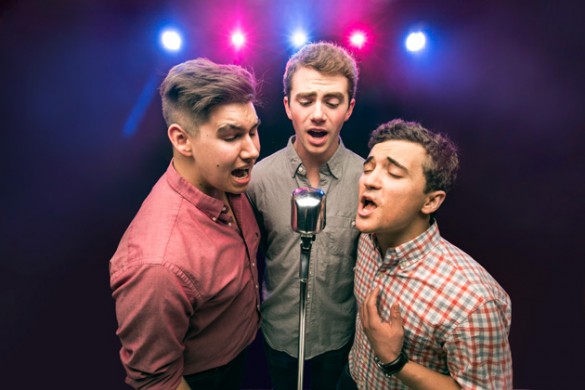 It's safe to say that Dan McNeill, Ted Moock and Augie Phillips always will remember what they were doing on Dec. 17, 2014. That evening, like many in the Vanderbilt community, they tuned in to NBC to watch the Melodores, a student a cappella group, compete on The Sing-Off holiday special.
What made it so memorable for McNeill, Moock and Phillips was that, being the only senior members of the Melodores, they were watching themselves not only fulfill a dream four years in the making but do so in historic fashion. By claiming the $50,000 grand prize, the Melodores became the first collegiate group ever to win The Sing-Off competition.
"The day of the airing was incredible," said Moock, a human and organizational development major from Oklahoma City. "Of course, it was a relief finally being able to tell people we'd won"—group members had to sign nondisclosure agreements during filming—"but really, it was more about people's responses. I got countless texts and messages from friends across the country saying they were tuning in to watch with their families and friends back home. [lquote]I was not expecting such amazing support, and it made me so happy to know that our Vanderbilt community was behind us every step of the way."[/lquote]
While the show and subsequent 13-city Sing-Off Live Tour have provided some of their favorite Melodores memories, the seniors say the everyday experience of being in the group is something they'll always treasure. By practicing eight hours each week and performing at numerous events, the members have gotten to know each other well, bonding over a love of music and their pride in representing Vanderbilt.
"My brothers in the Melodores and the experiences I've had with them are at the heart of my college experience," said Phillips, a human and organizational development major from Lawrenceburg, Kentucky, who also is the Melodores' president. "I've met so many new people and traveled to so many places because of this group, and I couldn't be more grateful for that."
McNeill—a medicine, health and society major from Woodstock, Georgia—agrees, adding that he probably never would have met such a diverse set of friends had it not been for the group. "Being in the Melodores," he said, "has shown me that people from different walks of life can come together, become great friends and accomplish amazing things."
As might be expected, the trio's plans after graduation reflect their diverse backgrounds. McNeill, who is recently engaged, will attend medical school and study pediatric medicine, while Phillips plans to work in health care IT. Moock, meanwhile, is the only one of the three hoping to continue performing professionally. He's making his film debut this May in Pitch Perfect 2, which is, appropriately enough, about a collegiate a cappella group.
"It's really cool," McNeill said. "Ted, Augie and I all have big plans in different areas, but I know we'll always be able to come back to Vanderbilt and sing a couple of songs together."