Kate Daniels, an award-winning poet who directs Vanderbilt University's Creative Writing Program, has been inducted into the Fellowship of Southern Writers.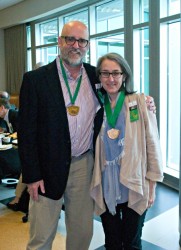 The organization, founded in 1987 by distinguished writers who included Cleanth Brooks, James Dickey, Andrew Lytle and Robert Penn Warren, seeks to recognize and encourage literature in the South. Fellows participate in the biennial Celebration of Southern Literature, a three-day event hosted by the Southern Lit Alliance of Chattanooga.
Daniels, a professor of English who is affiliated with the Center for Medicine, Health and Society at Vanderbilt, was honored during this year's event, during which the Fellowship of Southern Writers elected new members, bestowed awards on established and emerging writers, and hosted readings and talks.
Daniels, the 2011 recipient of the Fellowship of Southern Writers' Hanes Award for Poetry, and Vanderbilt colleague Tony Earley were among more than 40 acclaimed writers who participated in the celebration. Daniels was introduced by Earley, the Samuel Milton Fleming Professor of English, prior to her April 18 reading at the Tivoli Theatre. He said it was an honor to induct her.
"The Fellowship of Southern Writers scored big when it inducted Kate," Earley said. "She's been widely admired by the literary community for years, for both the sheer breadth and technical accomplishment of her poetry, and for the passion with which she speaks for the traditionally voiceless, particularly Southern working-class women. She's a national figure in the cutting-edge work being done at the intersection of medicine and art–putting into play the sort of radical idea that art of all kinds, when integrated with traditional medicine, can actually be a force for healing. [lquote]That bling she received is well deserved."[/lquote]
Daniels earned a master's degree from the University of Virginia and a master of fine arts degree from Columbia University. She joined the Vanderbilt faculty in 1994. Her books include A Walk in Victoria's Secret, Four Testimonies and The Niobe Poems. Her poems have been published in Best American Poetry 2010 and Best American Poetry 2012. She has been the recipient of a Guggenheim fellowship along with the Pushcart Prize and the James Dickey Prize.