Media Inquiries
Latest Stories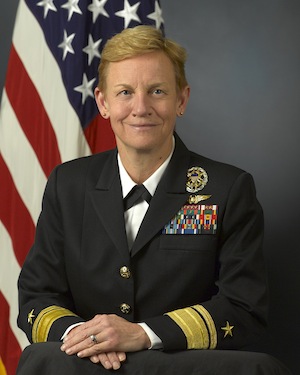 President Obama has nominated Vice Adm. Nora Wingfield Tyson, a Vanderbilt University alumna, to command the U.S. 3rd Fleet based in San Diego. If confirmed by the Senate, Tyson will be the first woman to lead the Navy's West Coast fleet, which stretches from the Western coast of the United States to the International Date Line in the Pacific.
Tyson has served as deputy commander of U.S. Fleet Forces Command since 2013 and temporarily served as commander last fall due to a scheduling issue during change in commands. Just prior to joining U.S. Fleet Forces, she served as vice director of the Joint Staff.
A three-star vice admiral and naval flight officer, Tyson joined the Navy after graduating from Vanderbilt with a bachelor's degree in English in 1979. As captain of the amphibious assault ship USS Bataan, she led the Navy's humanitarian assistance and disaster relief efforts following Hurricane Katrina. Her ship also was deployed twice to the Persian Gulf in support of operations Iraqi Freedom, Enduring Freedom and New Dawn.
In 2010, she became the first woman in U.S. Navy history to be named commander of a carrier strike group. As commander of Carrier Strike Group Two, she led 80 combat aircraft and 13 ships, including the flagship USS George H.W. Bush on its maiden deployment.
Read more about Tyson in this 2010 Vanderbilt Magazine profile.
In 2012, the Vanderbilt Alumni Association gave Tyson its Distinguished Alumni Award, the highest honor bestowed on a member of the Vanderbilt alumni community.
If confirmed as commander of the U.S. 3rd Fleet, Tyson would become the Navy's first female numbered fleet commander of ships, joining Vice Adm. Jan Tighe in holding the "first female numbered fleet commander" distinction. Tighe currently leads U.S. Fleet Cyber Command, also known as 10th Fleet.