MyVU asked 13 graduating seniors how they found immersion at Vanderbilt and got as many different answers. We're featuring their stories in the lead up to Commencement on May 8.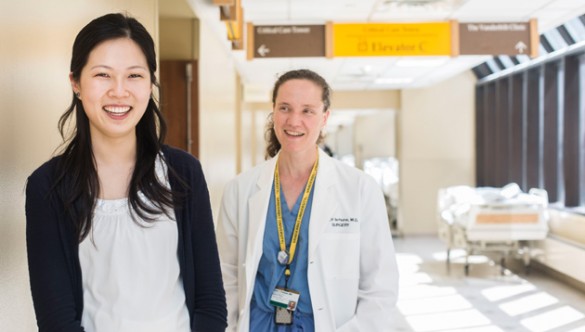 When Simeng Miao was a first-year student living in Hank Ingram House, she often spent Friday evenings in the residence of faculty head of house Kyla Terhune. Terhune, husband Rick Keuler and their children would host "Family Night"—an opportunity for students to drop in for cookies and conversation.
Terhune got to know Miao as the friendly student who played "princess" with her young daughter, Amelia. Miao got to know "Dr. T" as a busy surgeon who balanced work, family and mentoring the students in her care. For Miao, who had long dreamed of becoming a physician, the relationship was significant. "I don't have any medical doctors in my family, so Dr. T was a great role model for me," she said.
Sophomore year, Miao found herself at a crossroads. With classes for her biomedical engineering major becoming more challenging, she questioned if she was cut out to be a doctor. At a friend's suggestion, she talked to Terhune to get some perspective.
"She shared with me some of the setbacks she went through in college," Miao remembered. "She showed me her CV, which was very long and impressive, and said, 'Nowhere on here does it mention what grade I got in a particular class or on a particular test. In the end, what's important are the contacts you make, the experiences you have, and how you apply those experiences in the real world.'
"[rquote]I realized I was getting hung up on grades," Miao said. "Dr. T understood what I was going through better than anyone else."[/rquote]
Miao decided to immerse herself in research, applying what she learned in the classroom to hands-on experience in the lab. Back home in Columbus, Ohio, she had been a summer research assistant in a pharmacology lab at Ohio State University. At Vanderbilt, she found placement in a Medical Center nephrology lab as a SyBBURE-Searle scholar.
SyBBURE stands for Systems Biology and Bioengineering Undergraduate Research Experience. The program, funded by a gift from alumnus Gideon Searle, aims to provide undergrads with immersion experiences in advanced scientific investigation while being mentored by leading Vanderbilt researchers and faculty. Miao's research for the past two and a half years has involved designing microfluidic devices to study the effects of fluid shear stress on pro-inflammatory and pro-fibrotic kidney environments, which could help combat chronic kidney disease.
She's also thrown herself into her School of Engineering senior design project. Miao and three classmates have developed a smartphone app that could revolutionize the treatment of clubfoot, the congenital inward rotation of the foot at the ankle. The app allows parents to create a scan of a child's foot then send the information to a lab where a custom cast is fabricated using a 3-D printer. This innovation could spare families living in rural areas from having to make long commutes for treatment.
Miao, who will start medical school at Ohio State this fall, no longer has doubts about her future. She wants to practice pediatric medicine at a research medical center, where she can hopefully work with undergraduates.
"My Vanderbilt experience taught me how to manage my time, how to work with peers. There's no way I would have survived my classes without the support teams around me," she said. "The combination of meeting Dr. T, being in a major I love and doing interesting research—I wouldn't trade this experience for anything."