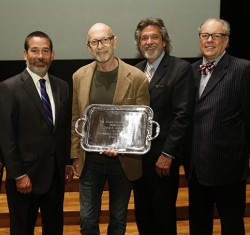 Jim Lovensheimer, associate professor of musicology, is the recipient of the 2015 Vanderbilt Alumni Education Award.
The Vanderbilt University Alumni Association Board of Directors selected Lovensheimer for his significant contributions to educational programming as a speaker for Reunion and other alumni events.
Board member Tim Warnock, BA'84, presented the award to Lovensheimer April 16 during a surprise visit to his Musical Theatre in America: A Cultural History class. Mark Wait, dean of the Blair School of Music, Virginia Payne, associate dean of the Blair School, and Jim Harris, chair of The KeyBoard, Blair's board of advisers, were also in attendance.
"In his Reunion/Homecoming 2015 educational program Professor Lovensheimer shared why musicals matter, and he also captivated St. Louis alumni with his Commodore Classroom lecture "All Singing! All Dancing! All Politics!" before a viewing of the musical Bloody Bloody Andrew Jackson," said Warnock, of Nashville, Tenn.
Lovensheimer began teaching at Vanderbilt in 2002. His lifelong passion for musical theater of all kinds is the focus of his academic research and writing. His honors include the Ellen Gregg Ingalls Award for Excellence in Classroom Teaching, the Chancellor's Cup for contributions outside the classroom to student-faculty relations, the Heard Award for Professor of the Year, and the Blair Wilson Award for Teaching Excellence. He is also the faculty director of Moore College.
The Vanderbilt Alumni Association Board of Directors has chosen a faculty member for this honor each year since 1982. Lovensheimer was given a cash prize and a silver tray.