Vanderbilt helps Arts and Science student frame his world view
Apr. 22, 2015, 2:59 PM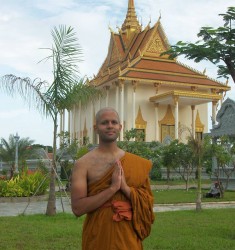 Born in a northwest suburb of Chicago to parents who immigrated to the U.S. from southwestern India, Shawn Albert realized early on that he wanted to travel the world.
Majoring in molecular and cellular biology and medicine, health and society, Albert came to Vanderbilt because of the emphasis on experiential education and undergraduate research opportunities
"I was really interested in learning beyond the classroom, and I wanted to have the experience of being able to not only grow academically but to grow as an individual."
Albert credits his growth, both academically and personally, to the generosity of Vanderbilt donors. Thanks to a scholarship, he was able to study abroad in Cambodia for a month. He cared for children and orphans whose parents were suffering with HIV or had died of AIDS, and also worked with a nonprofit organization that saves impoverished children from trafficking. While teaching English in a Buddhist monastery, Albert was invited to become an ordained monk. He willingly agreed to have his head and eyebrows shaven, and live by strict codes of diet, chanting and meditation.
"I learned so much in that month," says Albert. "Travel abroad is an opportunity to experience a different culture by stepping outside your comfort zone with the idea that you are going to learn from a different perspective. And it challenges you to take that back with you to campus."
Entering his senior year, Albert returns to campus with a refocused perception on why reaching out to lend a hand is a simple gesture with exponential power. Inspired by the global insight he's gained from the generosity of Vanderbilt's donors, he will be actively involved in the 2015-16 Senior Class Fund, which encourages students to start giving back to the university as a way of leaving their mark and saying thanks.
"Giving to Vanderbilt compounds, multiplies and expands," says Albert. "An investment in a student's Vanderbilt experience is not just a donation that goes to one individual. It goes to an entire community—to all the people who are touched by that student's Vanderbilt experience."