Emilie Townes is recipient of higher education Pacesetter Award
by
Ann Marie Deer Owens
Apr. 20, 2015, 5:01 PM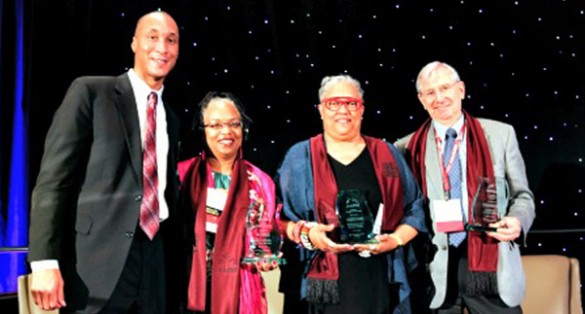 The Rev. Emilie M. Townes, dean of the Vanderbilt University Divinity School, has been awarded the 2015 Pacesetter Award by the American Association of Blacks in Higher Education.
Townes, the E. Rhodes and Leona B. Carpenter Professor of Womanist Ethics and Society, received the award at the association's annual conference April 9-11 in North Charleston, South Carolina.
Recipients of the Pacesetter Award have made significant achievement in blazing new paths to leadership in higher education. The award, established in 2000, recognizes individuals whose accomplishments are unique in mission and scope by seeking to enhance the black educational experience.
"We were delighted to present Emilie Townes our Pacesetter Award and appreciated the wit, wisdom and philosophical framing that she shared with our conference participants," said Kenneth Monteiro, dean of the College of Ethnic Studies and president-elect of the association. "Dean Townes contributed greatly to the depth of thought and excitement for serving higher education that was instilled in our conference participants from around the nation."
Townes has been a pioneering scholar in womanist theology, a field of studies in which the historic and current insights of African American women are brought into critical engagement with the traditions of Christian theology.
An ordained American Baptist clergywoman, she earned a doctorate in philosophy from the Joint Garrett-Evangelical Theological Seminary/Northwestern University Program in Religious and Theological Studies. She also received a doctorate in ministry from the University of Chicago.
The American Association of Blacks in Higher Education pursues the educational and professional needs of blacks in higher education with a focus on leadership, access and vital issues impacting students, faculty, staff and administrators. The organization also facilitates and provides opportunities for collaborating and networking among individuals, institutions, groups and agencies in higher education in the United States and internationally.