NEH to fund summer research for Jewish studies and sociology professor
by
Liz Entman
Apr. 17, 2015, 4:08 PM
by Ben Streeter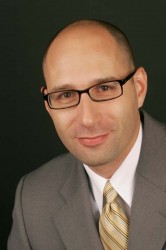 Vanderbilt professor Shaul Kelner was awarded a National Endowment for the Humanities grant for summer research. Kelner is an associate professor of Jewish studies and sociology as well as director of the Jewish studies program. The grant aids Kelner in his current book project concerning cultural dimensions of the Soviet Jewry movement in Cold War times.
The working title for the project is "Mobilizing for Soviet Jews: American Religion, Cold War Culture and Identity Politics." It covers the time period from 1963 to 1991, when a grassroots campaign in the United States sought emigration rights for persecuted Jews in the Soviet Union.
"It brought hundreds of thousands of demonstrators into American streets annually," says Kelner. "It showed that the average American citizens could actually influence policy behind the Iron Curtain, securing the release of tens of thousands of Soviet Jews in the 1970's."
"The movement laid the groundwork for a mass emigration of a million and half more when the USSR collapsed two decades later," Kelner explains. "And yet today, the movement is largely forgotten."
An unintended consequence of the movement was that it fashioned new modes of Jewish American practice. Some modes played on traditional religion, transforming Passover seders and bar/bat mitzvah ceremonies into moments of anti-Soviet protest. Others embraced modern cultural practices like international tourism, using them to create opportunities to express solidarity with Soviet Jews.
"It was a movement that operated on both sides of the Iron Curtain," Kelner states. "It was transnational before the word existed."
The grant funds Kelner's multifaceted research into this Soviet Jewry movement. His project covers the relationship between culture as a means rather than an end of social movements. Focusing on cultural factors rather than political ones, Kelner's study of the movement will also contribute to current understanding of diverse cultures during the Cold War era.
The research the grant will fund will involve visiting and studying the archives of the movement's organizations, primarily the American Jewish Historical Society's Archives of the American Soviet Jewry Movement. Kelner has visited in the past, but never for a full summer.
"The short trips have moved the research forward, but there is no comparison between these episodic visits and the full immersion in the archives that the NEH Summer Stipend will make possible."