Vanderbilt University juniors Ariel Helms and Caylyn Perry were selected as 2015 Truman Scholars and will receive $30,000 scholarships for graduate school.
Helms and Perry, two of 58 new Truman Scholars selected nationwide, will also have the opportunity to participate in professional development programming to help prepare them for careers in public service leadership. They will officially receive their awards May 24 at the Harry S. Truman Presidential Library and Museum in Independence, Missouri.
Vanderbilt Chancellor Nicholas S. Zeppos telephoned Helms and Perry to tell them they had been chosen as Truman Scholars.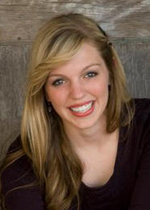 Helms, a molecular and cellular biology major from Bixby, Oklahoma, is preparing for a career researching and treating diabetes within the Cherokee community, of which she is a member. She wants to establish a research lab within the community that will inspire Cherokee youth to consider careers in science, technology, engineering and mathematics.
Perry, a history and political science major from Hoover, Alabama, is attending Vanderbilt on an Ingram Scholarship and plans a career in urban planning and community development. She has gained experience working in Detroit, Philadelphia and Birmingham to complement her studies.
The Harry S. Truman Scholarship Foundation was created by Congress in 1975 to be the nation's living memorial to President Harry S. Truman. The foundation has a mission to select and support the next generation of public service leaders. The Truman award has become one of the most prestigious national scholarships in the United States.
Annually, candidates for the Truman Scholarship go through a rigorous, multi-stage selection process. In 2015, there were 688 candidates for the award nominated by 297 colleges and universities. The 200 finalists for the award were interviewed in March and early April at one of 16 regional selection panels.
For more information about this and other honor scholarships, contact Lyn Fulton-John in the Office of Honor Scholarships at lyn.fulton-john@vanderbilt.edu.