Media Inquiries
Latest Stories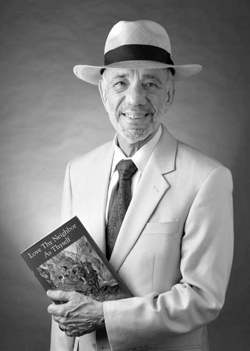 Colleagues, students and friends of Vanderbilt University professor Lenn Goodman will pay tribute to his highly regarded research April 20 during a celebration for the new book Lenn E. Goodman: Judaism, Humanity and Nature (Brill, 2015).
The event to honor Goodman, a professor of philosophy and Jewish studies and the Andrew W. Mellon Professor in the Humanities, will begin at 4:30 p.m. with a reception in the Buttrick Hall atrium.
At 5 p.m. in Buttrick 103, Daniella Pressner, principal of the Akiva School, and Alan Mittleman, professor of Jewish thought at The Jewish Theological Seminary and a contributor to the book, will deliver brief remarks on Goodman's philosophy. Goodman will then respond and take questions from the audience.
"Lenn Goodman is a towering figure in academic philosophy and an agenda-setter in the fields of Jewish philosophy, metaphysics, ethics and philosophy of religion," said Robert Talisse, professor of philosophy and department chair. "What's more, the impact of Lenn's work extends beyond philosophy to disciplines such as theology, history and Islamic studies. We are delighted to host this celebration of Lenn's achievements."
Goodman, who graduated summa cum laude from Harvard University, was awarded a Marshall Scholarship. He earned his doctorate at the University of Oxford. Prior to coming to Vanderbilt in 1994, he taught at the University of California-Los Angeles and the University of Hawaii.
The book, edited by Hava Tirosh-Samuelson and Aaron W. Hughes, is volume nine of an educational series called the Library of Contemporary Jewish Philosophers. Included is an intellectual portrait of Goodman written by Mittleman, four selections of Goodman's writing, and Tirosh-Samuelson's interview with Goodman.
"I am thrilled to be a part of a project that speaks to the growth and development of this exciting field," Goodman said. "When I began my research in the 1970s, there were very few academics doing original work in Jewish philosophy."
Hughes, who holds the Philip S. Bernstein Chair in Jewish Studies at the University of Rochester, has done extensive work in Islamic as well as Jewish philosophy, similar to Goodman's research interests.
Goodman said that Tirosh-Samuelson, the Irving and Miriam Lowe Professor of Modern Judaism at Arizona State University, is an accomplished scholar of medieval and Renaissance Jewish philosophy who shares his strong interest in nature. "That is one of the reasons why she chose to include my essay 'Respect for Nature in the Jewish Tradition,'" he said. The essay was first published in Judaism and Ecology: Created World and Revealed Word (edited by Tirosh-Samuelson, Harvard University Press, 2002).
Goodman said one of the distinctive aspects of his research is his willingness to "go out on a limb," taking a stand on issues such as the relationship between creation and evolution. In one of his books, On Justice: An Essay in Jewish Philosophy (Yale University Press, 1991, and Littman Library of Jewish Civilization, 2008), he explores not only how people should be treated, but also animals, plants and other entities. "I also dealt with whether life is fair and if God is just or unjust to us," Goodman said. "That is what my colleagues have in mind when they speak of me as a constructive Jewish philosopher."
Mittleman concludes his profile of Goodman with the following: "To my knowledge, no contemporary Jewish philosopher achieves either his range or his depth. He seems to have avoided the fate described by the Talmudic aphorism 'He who tries to grasp too much will grasp nothing.' Goodman has grasped a very great deal, and those who would be his students will grasp much as well."
The book event, which is free and open to the public, is co-sponsored by the philosophy department, the Program in Jewish Studies and the College of Arts and Science Dean's Office.
Listen to an "Authorial Intentions" interview with Lenn Goodman by Divinity Librarian Chris Benda.