Expanded donation, recycling options available April 20-May 10
Apr. 15, 2015, 11:46 AM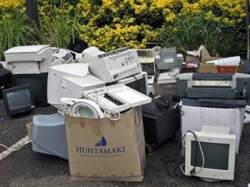 Donation and recycling locations on campus will be expanded from April 20 to May 10, just in time for student move out and office spring-cleaning efforts.
Earth Friendly Move Out donation and recycling locations will be available until May 2 at The Martha Rivers Ingram Commons, and until May 10 on the main university campus.
Donate
The Office of Housing and Residential Education will sponsor multiple donation locations across campus that will benefit a variety of nonprofit charities. At these locations, you can donate any usable items, including appliances, clothing and other goods. Faculty and staff are encouraged to use the Highland Quad location, which includes a donation trailer that is easy to access without having to enter a residence hall. In addition, you may post unwanted items on the Vandy FreeSwap website at any time.
Recycle
Drop off your personal unwanted or broken electronics, computers and appliances in the specially designated areas outside of residence halls. Please note that you must use the disposal methods outlined here for any Vanderbilt-owned electronics, computers or appliances.
Ink and toner cartridges, batteries, pens, markers and mechanical pencil recycling is available at many locations, including the Sarratt Student Center and Commons Center main desks, the Peabody Library, the Baker Building and the Kennedy Center. Compact fluorescent light (CFL) bulb recycling also is available at the Peabody Maintenance Building and the Bryan Building.
See a map of all specialized recycling locations here.
Other recyclable items—such as plastic, paper (including books and magazines), aluminum, glass and flattened cardboard—can be recycled in the recycling containers nearest you. Maps for plastic, paper, aluminum and cardboard recycling locations can be found here, and glass recycling locations can be found here.
If you have questions about where to recycle items, please visit the SustainVU website, contact sustainvu@vanderbilt.edu, or call (615) 322-9022.
Contact: Chelsea Hamilton, (615) 322-9022
chelsea.l.hamilton@vanderbilt.edu