University leaders, students, faculty and staff gathered in the shadow of the university power plant Thursday, April 9, to celebrate Vanderbilt's conversion from coal to natural gas for its heating, cooling and electricity needs.
"Our campus is a place of energy, excitement and beauty. But in the middle of this dynamic place, there's a smokestack," Chancellor Nicholas S. Zeppos said. "As we started thinking about our future, the future of our planet, what was good stewardship of Vanderbilt and what made us responsible and a beautiful campus, it was an easy decision to go forward and stop burning coal on campus."
Watch video of the tear down »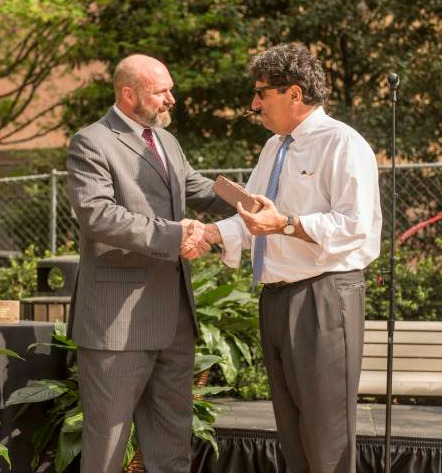 In the fall of 2012, Zeppos charged Assistant Vice Chancellor for Plant Operations Mark Petty and his team with making the conversion to natural gas. The plant burned off its last lump of coal in November, ending 126 years of coal use on campus. Demolition of the smokestack, silo and other coal infrastructure has begun and is scheduled to be completed in early June.
Zeppos quoted several statistics that illustrate the major environmental impact eliminating coal on campus will have. Every year, 2,300 trucks of coal were delivered to campus, 105 million pounds of coal were burned and 15 million pounds of coal waste ash were produced. In addition, greenhouse gas emissions—the carbon footprint of the power plant—will go down by as much as 40 percent. The conversion also will decrease the emission of particulate matter by more than 50 percent and virtually eliminate emissions of mercury, hydrogen chloride, sulfur dioxide and other air pollutants. The university power plant produces 23 percent of Vanderbilt's electricity, 90 percent of its heat and 40 percent of its cooling.
Provost Susan R. Wente applauded the collaborative efforts of faculty, students and staff that serve as the foundation for many of Vanderbilt's sustainability efforts, citing in particular a 2009 statement crafted by more than 50 faculty members that helped define Vanderbilt's commitment to the environment.
"The process of crafting that statement brought together stakeholders from all corners of the university and reflects then and now our 'One Vanderbilt' spirit," Wente said. "It takes our highest efforts of collaboration and cooperation, which distinguish our campus, to continue making progress in these important areas."
Vanderbilt students and Vanderbilt Student Government also played a critical role in advocating for the end of coal on campus and the removal of the smokestack.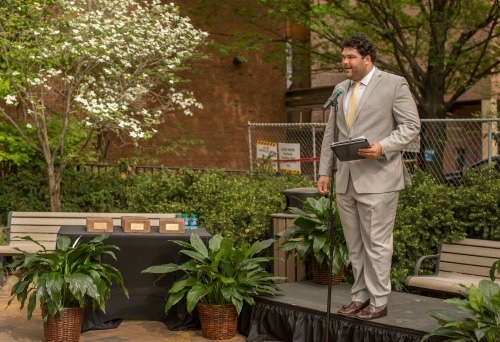 "For many years, I've often sought out the most prominent landmark on our campus from various vantage points around the city. Unfortunately, that landmark wasn't our world-class hospital, the Kirkland bell tower or even Carmichael Towers, but this smokestack," VSG President Tanner Owen said. "Now, I and everyone else will look for more important and defining landmarks when searching the skyline for our campus. We will also notice the absence of this one, serving as a testament to our progress over the years."