Media Inquiries
Latest Stories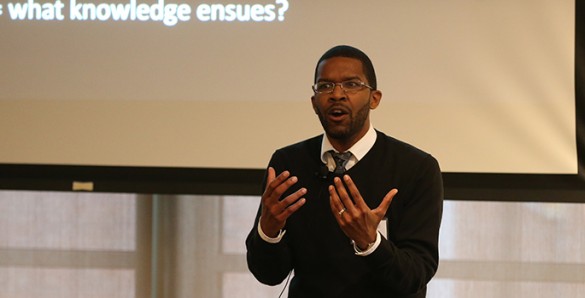 You couldn't exactly call it high drama. But there was plenty of emotion on tap March 27 during the finals of this year's Three Minute Thesis (3MT) Competition.
The event, which was held at the Student Life Center, consisted of a dozen graduate students attempting to summarize their 80,000-word doctoral theses in less than three minutes with a single PowerPoint slide. What made this challenge unusual and particularly anxiety-provoking for the young scholars was the requirement that they explain their research in terms that members of the public can understand.
This year more than 60 students signed up for the competition put on by the Graduate Student Council (GSC). Fifty-one actually showed up for the preliminary rounds. Out of these a dozen were selected to compete in the finals for three cash awards: $1,500 for first place, $750 for second place and $350 for people's choice.
"[rquote]The purpose of this competition is to hone students' communication skills[/rquote], something that will be extremely applicable as they more forward in their careers," GSC Vice President for Academic Affairs Colin Klaus announced in his introductory remarks.
Klaus explained that 3MT was invented at the University of Queensland in Australia in 2008 and has proven so popular that it has now spread to more than 200 universities in 19 countries. Vanderbilt, which held its first competition three years ago, was one of the first universities in the U.S. to pick it up, he said.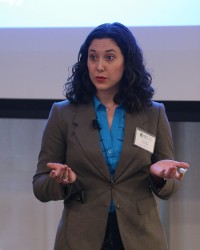 The subjects of the talks ranged the gamut from documenting the impact that religious experiences have had on African American leaders, to developing a method for improving the survival rate of patients with colorectal cancer, to designing a "nano-scale" taxicab for delivering drugs to specific targets in the body, to exploring the relationship between the lack of awareness of a person's own emotions and the lack of empathy for others, to discovering a method for stimulating bacteria to produce novel antibiotic compounds.
Colorful similes and metaphors abounded. One contestant used Goldilocks and the three bears to describe efforts to refresh the body's immune system when it becomes exhausted without over-stimulating it. Another used popping balloons to explain a method for making the drugs used to treat heart attacks more effective by equipping them with molecular needles so they can puncture tiny membrane sacs in cells that trap them. Yet another speaker created a "manganese chef" to describe her studies which suggest that taking manganese nutritional supplements might actually increase the severity of bacterial infections instead of lessening them.
"I learned a whole lot in very little time," commented Ronnie Steine, at-large-member of the Nashville City Council who served as one of the finalist judges. "[rquote]I was so impressed with both the clarity of the presentations and the passion with which they were presented."[/rquote]
He was joined on the panel of judges by Ellen Pryor, director of communications for The Frist; Stefanie Murray, executive editor of the Tennessean; Rebecca Bryant, project manager for researcher information systems at the University of Illinois Library; Susan Wente, provost and vice chancellor for academic affairs; Vicki Greene, senior associate dean for graduate education; and Richard Hoover, associate dean of the graduate school.
At the end of the day, the winners were:
First Place: Kelsey Beavers, doctoral student in materials science, who used the analogy of a nano-taxicab to describe her research on developing an improved drug delivery system.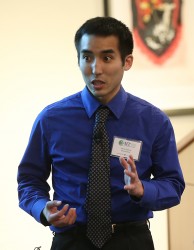 Second Place: Lillian Johnson, a member of the Vanderbilt Medical Scientist Training Program, who invoked the culinary imagery of the "manganese chef" to explain her research on the effectiveness of manganese supplements to fight bacterial infections.
People's Choice: Tie between Kelsey Beavers and Aaron Howard, a graduate student in religion who delivered a suitably impassioned summary of his work documenting the impact that religious experiences had on the careers of African American leaders including Martin Luther King and Harriet Tubman.
Bryant, who gave a keynote lecture before the competition began, summarized the significance of the event when she said, "It's very important for the students to learn how to describe their research and it is equally as important for the rest of us to understand what they are doing."