Media Inquiries
Latest Stories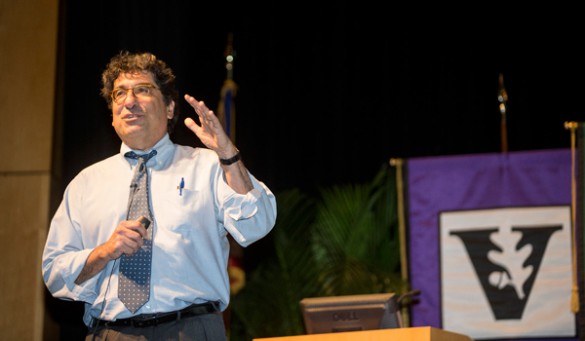 Chancellor Nicholas S. Zeppos thanked faculty March 31 for their valued contributions to the university and exhorted all faculty members to add their voices as the university moves forward with its Academic Strategic Plan and pursues other high-priority endeavors.
In his annual Spring Faculty Assembly address at Langford Auditorium, Zeppos noted that nearly 400 faculty members have participated in the development of the plan, with 99 percent of the faculty members invited agreeing to serve on the executive committee or on one of the steering committees. In all, more than 200 faculty members have been formally involved, and an additional 175 faculty and staff have met to discuss the planning process.
"I can't thank all of the faculty who did this enough," he said. "We've had great faculty involvement, and I really appreciate it." The need and desire for faculty involvement continues, he said, noting another round of town hall meetings has been set.
"[rquote]I really encourage you to come, speak up and offer suggestions, offer alternatives," he said. "We're a university; every idea is valuable."[/rquote]
Among the important initiatives to which Zeppos asked the faculty to add their voices are efforts to bring the campus community – with all of its diverse aspects – closer together and to determine how the land on which the university sits will be used long term.
"I want to put something in front of you," Zeppos said. "I think our society is in an antagonistic, barely tolerant time. We're starting to see on other campuses and even on our campus jolting things about diversity and inclusion."
Noting "tolerance is not love," Zeppos said, "We need to go from diversity to tolerance to acceptance to full inclusion and to build a real community."
The chancellor said the effort would start with a faculty committee and lead to student conversations and eventually an action plan.
As one inspiration for the need to focus on this issue, the chancellor cited the book Strong Inside by Vanderbilt alumnus Andrew Maraniss, about Vanderbilt basketball player Perry Wallace and his struggles as the first African American basketball player in the Southeastern Conference.
"[lquote]Let's start to really talk about what it means to have a diverse, inclusive community where people feel like they're a part of the community and not marginalized and isolated," Zeppos said. "That is really heavy lifting, but I know that we can do it."[/lquote]
In regard to long-term plans for the use of campus land, Zeppos said, "We aren't going anywhere. Our ground is sacred, so we need to plan prudently. I'm going to ask a faculty committee to come together and decide what should be on these 330 acres."
Using charts, Zeppos gave an overview of the progress the university has made in recent years even in light of the economic recession in 2008, reduction of government support of research and health care, growing competition for top students and increased government regulation – a challenge that he helped address as co-chair of the U.S. Senate-appointed Task Force on Government Regulation of Higher Education. The university, he said, is on sound financial footing; has been able to attract and retain quality faculty, thanks in large part to an increase in endowed chairs; students are applying to Vanderbilt at record rates, and the resulting classes are more diverse and smarter by any measure; and the graduate school's size and quality continue to strengthen.
He also noted that, as a result of Opportunity Vanderbilt – the university's program that replaces all need-based university loans with additional grant assistance – the student body better reflects "how America is changing." The university has been able to show "you can be excellent and distinguished, and better and more diverse," he said.
The university is committed to continuing to make improvements, including those in graduate education, by increasing stipends, continuing to add endowed chairs and encouraging the pursuits of mid-career faculty members through the recently announced Chancellor Faculty Fellows.
Vanderbilt will continue to add endowed chairs, Zeppos said, after growing from 94 in 2000 to 374 in 2014.
"I think the faculty quality is as strong as it's ever been," he said. "But we don't have enough chairs. We need more. We can't be a farm team with our best young faculty going to our peers."
The faculty assembly started with a presentation by David Michelson, assistant professor of the history of Christianity, on "Nineveh No More: Cultural Genocide in Contemporary Iraq and Syria."
Paul Lim, chair of the Faculty Senate, spoke about the senate's work and helped Zeppos hand out five faculty awards.