Media Inquiries
Latest Stories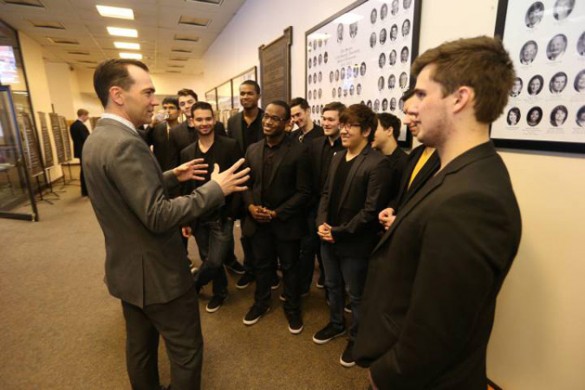 Vanderbilt hosted a Day on the Hill breakfast reception for state legislators and staff members March 31 and showcased Vanderbilt's significant impact in each of Tennessee's 95 counties with banners displayed throughout hallways.
In addition to greeting legislators and staff in the Legislative Plaza cafeteria, Vanderbilt leaders met with House and Senate leadership to discuss the university's legislative agenda, while the Melodores, a Vanderbilt a cappella group and reigning champions of NBC's The Sing-Off, entertained staff and lawmakers.
Lt. Gov. Ron Ramsey, R-Blountville, speaker of the Senate, greeted Provost and Vice Chancellor for Academic Affairs Susan Wente, Vice Chancellor for Health Affairs and Dean of the School of Medicine Jeff Balser and Vice Chancellor for Public Affairs Beth Fortune shortly after their arrival. House Speaker Beth Harwell, R-Nashville, who holds a Ph.D. from Vanderbilt, met privately with Wente, Fortune and Nathan Green, assistant vice chancellor for state government relations.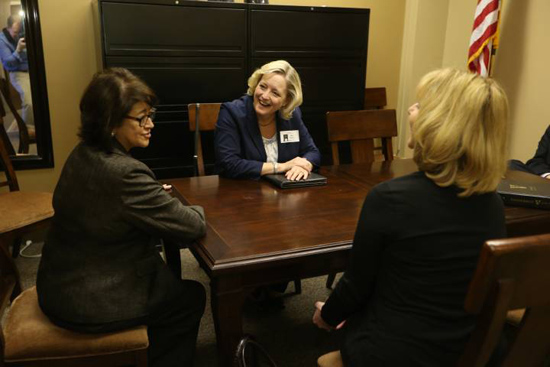 Among the messages the provost brought to legislators, including Rep. Harry Brooks, R-Knoxville, and Sen. Dolores Gresham, R-Somerville, was her thanks for support of SARA (State Authorization Reciprocity Agreement Act) legislation that would help streamline the process of offering online distance courses.
Balser engaged with the House and Senate health leadership team to advocate for issues of importance to academic medical centers–including support for Insure Tennessee–in meetings with Rep. Cameron Sexton, R-Crossville; Rep. Ryan Williams, R-Cookeville; and Sen. Rusty Crowe, R-Johnson City.
Wente and Balser offered Vanderbilt's assistance in providing resources, particularly faculty expertise, as lawmakers advance legislation in Tennessee. At the same time, they asked legislators to support the academic freedom that allows Vanderbilt to pursue its educational, research and patient care missions.
While at Legislative Plaza and the War Memorial Building, where many state offices are located adjacent to the Tennessee State Capitol, the Vanderbilt delegation distributed a "County by County" booklet delineating specific impacts in each county in Tennessee, such as uncompensated care, number of Vanderbilt alumni living in the county, financial aid provided to Vanderbilt students from the county, and the number of calls from each county to the Tennessee Poison Center at Vanderbilt.
The plaza hallways were decorated with 96 black-and-gold banners outlining specific contributions by Vanderbilt in each county in Tennessee, with two banners needed to completely list the significant impacts in Davidson County.
The Melodores were officially welcomed by Rep. John Ray Clemmons, D-Nashville, whose district includes Vanderbilt. Clemmons thanked the group for being ambassadors for the university and Nashville as they travel around the state and country, and he urged them to consider making their homes in Tennessee following graduation.
"Our overall goal was to personalize Vanderbilt, to show our significant impact across the state and in each individual county, and to forge additional personal connections with policymakers," Green said. "We had a very successful day, and the Melodores were a huge hit."