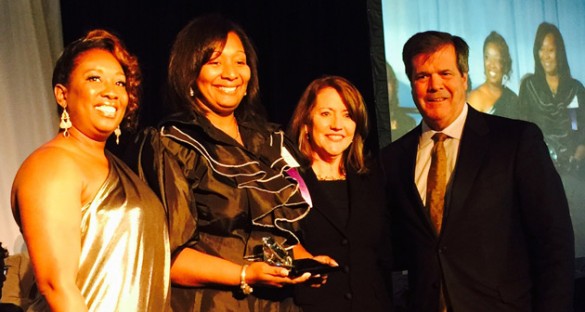 Katherine Brown, an occupational therapist with Vanderbilt Home Care Services, has received the 2015 Athena International Young Professional Leadership Award. Brown is founder of Learn CPR America, LLC; an author; and a national speaker on topics in health and wellness, women's empowerment and cardiopulmonary resuscitation. Nashville Mayor Karl Dean presented the award at a ceremony held March 26 at The Parthenon.
Four Vanderbilt students were recognized at the Southeastern Regional Yeast Meeting held in Little Rock, Arkansas. SERYM is an annual meeting for researchers in the Southeast who study yeast. Gabrielle Santiago, a junior from Houston, won first place for undergraduate poster; Nick Diab, a sophomore from Greenwood Village, Colorado, won second place for undergraduate poster; Ahmed Memon, a senior from Fort Worth, Texas, won second place for undergraduate presentation; and Esther Onuoha, a second-year graduate student from Nashville, won second place for graduate student presentation.
Several Vanderbilt administrators and staff have been named to the "In Charge List 2015" by Nashville Post Leaders magazine. They are:
Nicholas S. Zeppos, chancellor;
Jeff Balser, vice chancellor for health affairs and dean of the School of Medicine;
Tim Corbin, head baseball coach;
Beth Fortune, vice chancellor for public affairs;
Chris Guthrie, dean of Vanderbilt Law School and John Wade-Kent Syverud Professor of Law;
Diane Neighbors, director of the Vanderbilt Child and Family Center;
Judson Newbern, deputy vice chancellor for facilities and environmental affairs;
C. Wright Pinson, deputy vice chancellor for health affairs, associate vice chancellor for clinical affairs and CEO of Vanderbilt University Medical Center hospitals and clinics;
Kevin Stallings, head men's basketball coach;
Becca Stevens, Episcopal chaplain; and
David Williams II, vice chancellor for athletics and university affairs and athletics director.