Media Inquiries
Latest Stories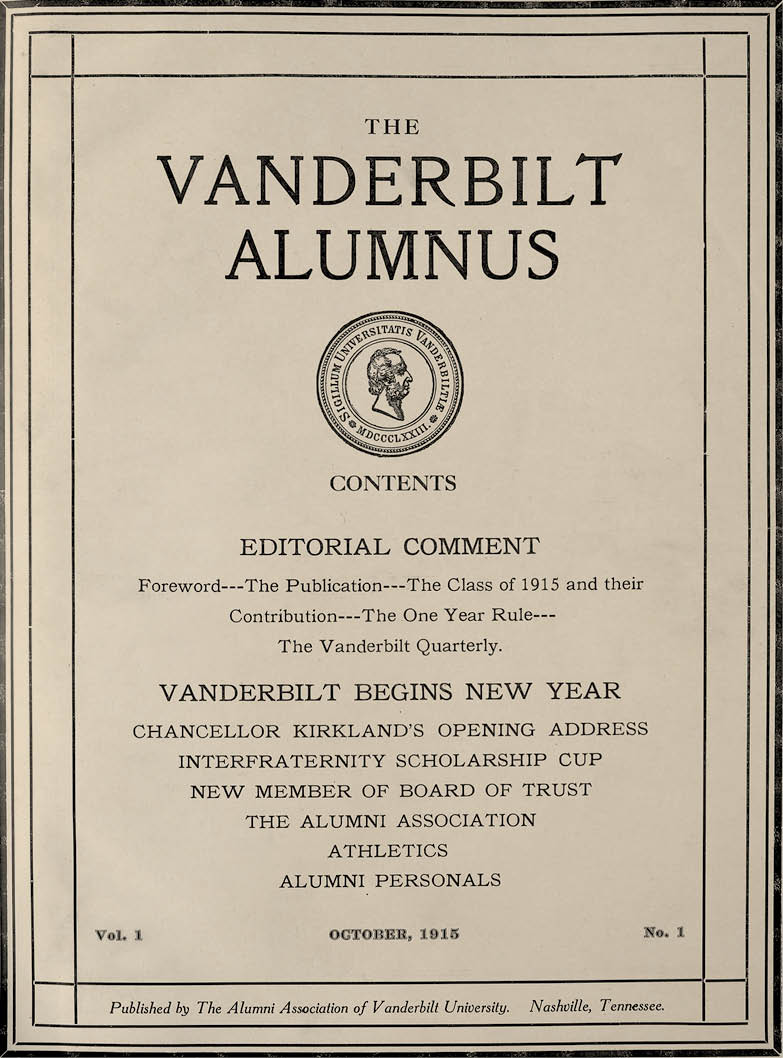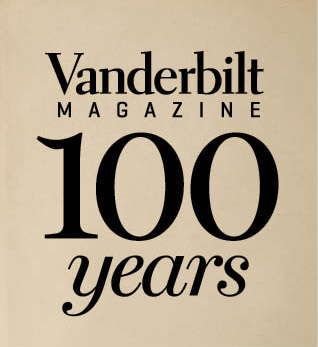 The inaugural issue of The Vanderbilt Alumnus, published in October 1915, totaled 20 pages and featured four pages of class notes, a reprint of Chancellor James Kirkland's address marking the beginning of the academic year, and a half-page section of topical quips called "Impertinent Paragraphs." On this page are excerpts from Vol. 1, No. 1.
---
Vanderbilt Begins New Year
More than forty students are in the School of Religion. A large proportion of them are Methodists, but there are representatives from at least six other denominations.
---
The Old Order Changeth
Extending its time-honored hospitality to approximately one hundred and fifty men, Kissam Hall, Vandy's "Cradle of Democracy," made an auspicious beginning of the year 1915. Many improvements argue for the best year in recent history. The rooms throughout have been calcimined. On the first floor a doorway has been cut through the partition which has so long barred the occupants of the north wings from the bathrooms in the south. No longer will it be necessary for the "northwingers" to expose their nether extremities to the hardships of snow, sleet, mud and cold, in order to attain that state which is so near to godliness.
Every freshman who is not a resident of the city is required to room in Kissam. This rule is for the purpose of bringing the entire class into close association and stimulating class spirit. Every student rooming in Kissam is also required to take his meals there.
---
Class of 1915
One hundred and fifty seniors agreed to give to the Alumni Association $100.00 each, payable $5.00 in one year, $5.00 in two years, and then $10.00 per year until the $100.00 is paid. If seniors, not yet established in business or profession, can do that, surely there are alumni in large numbers, we thought, who would do as much.
---
Commodores Confident of Championship
The opening [football] game against the heavy Middle Tennessee Normal School team showed the Commodores up only fairly well. The team was still green, and though winning by a score of 51 to 0, did not show any special promise.
The S.P.U. [Southwestern Presbyterian University] game, won 47 to 0, also failed to bring out the good qualities of the team, and threw a scare into the Commodore supporters by the way the Clarksville team worked forward passes almost at will on the dazed Commodores.
Georgetown came touted to hold Vandy to a close score and were walloped 75 to 0. In this game the team began to show class, and has kept it up. Against Cumberland they ran up a score of 60 to 0 on a muddy field, Sewanee having beaten the same team only 47 to 0 under favorable conditions the Saturday before.
In the Henderson–Brown game Vandy ran up the largest score made by her in three years, winning 100 to 0.
---