Media Inquiries
Latest Stories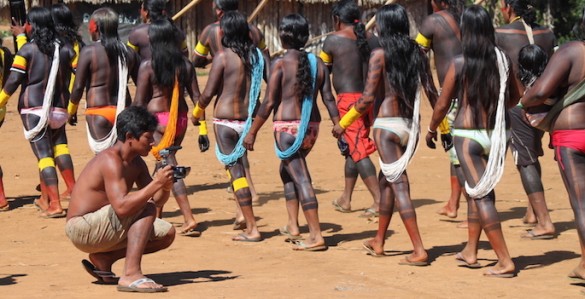 Indigenous peoples throughout the world are using new digital technologies to fight for environmental and cultural rights. Prime examples are native Kayapó filmmakers from Brazil, three of whom will headline a public conference at Vanderbilt University March 26-28 on the rapidly expanding use of digital media by Latin American indigenous people.
The InDigital Latin American Conference: Indigenous Engagement with Digital and Electronic Media will cover indigenous filmmaking as well as indigenous engagement with radio, television, DVDs, photography, social media and more. Presentations will address media production and consumption in Brazil, Mexico, Venezuela and Ecuador.
"Through this conference, we are able to link research, teaching and public outreach, and explore a topic of global importance at the same time," said Ted Fischer, professor of anthropology and director of the Center for Latin American Studies at Vanderbilt (CLAS).
The conference is co-sponsored by CLAS and Middle Tennessee State University (MTSU), along with Vanderbilt's Curb Center for Art, Enterprise and Public Policy and the Department of Anthropology. A K-12 teacher workshop will be held on March 26 preceding the opening reception, which begins at 4:30 p.m. in the Sarratt Gallery. A related art exhibit featuring Kayapó photographs, films and beadwork will be on display in the Sarratt Gallery through April 10.
"Shooting for Survival in the Amazon" begins at 6 p.m. in the Vanderbilt Central Library Community Room, where Kayapó filmmakers will screen some of their recent work and participate in an open discussion.
"In the 1990s Kayapó videographers from the Brazilian Amazon began producing short films to document their society's struggles for land, rainforest preservation and cultural survival," said Richard Pace, professor of anthropology at MTSU and an affiliated professor with CLAS. Pace noted that by 2010, a new generation of Kayapó videographers had begun to emerge. The younger videographers are respectful of tradition, but are seeking to capture new cultural innovations as the Kayapó engage the outside world.
"Whether it is a 'Miss Kayapó' beauty contest held at a Brazilian country fair or an intertribal demonstration in a faraway city to protest the construction of a hydroelectric dam, the videographers are there to film," Pace said. "These latter films embody cultural hybridity, or cultural invention, which refracts and recombines elements from multiple cultures. Through innovative processes of reconfiguration, integration, and juxtaposition, the productions consistently challenge Western notions of aesthetic composition and broaden the possibilities of representation."
Brazilian videographers Krakrax Kayapó, Benepu Kayapó and Kiabieti Metuktire will show works produced on their own village-based laptop editing suites as part of the Goeldi Museum media project and the Kayapó Video Project
Krakrax specializes in documenting traditional Kayapó ritual, especially the large and colorfully synchronized dances for which the tribe is famous. Bepunu is an experienced filmmaker who focuses on Kayapó interactions with the outside world, documenting both change and cultural persistence. His productions are archived at the National Indian Museum in Rio de Janeiro. Kiabieti is one of the original Kayapó videographers who has been making films since the 1980s.
Accompanying them for the presentation will be Glenn H. Shepard Jr., senior researcher at the Goeldi Museum, and Terence Turner, professor emeritus of anthropology at the University of Chicago. Shepard and Turner will translate for the Kayapó filmmakers and discuss Kayapó cultural survival and current events in the Brazilian Amazon.
Turner, who is also a visiting professor at Cornell University, has worked with the Kayapó since 1962 and made ethnographic films for the British Broadcasting Company and Granada Television International. He founded the Kayapó Video Project, through which the Kayapó have learned to shoot and edit videos about their own culture and encounters with Brazilian society. Turner worked with Kiabieti on the original Video in the Villages project, a pioneer project in the field of indigenous filmmaking in Brazil.
Shepard Jr. is a filmmaker, media anthropologist, medical anthropologist and ethnobotanist. He received an Emmy for his work on "Spirits of the Rainforest," which surveys biological and anthropological research in Manu National Park in Peru. Shepard currently directs the Kayapó Film Initiative through the Goeldi Museum.
Other highlights of the conference include a keynote address by Faye Ginsburg, director of the Center for Media, Culture and History at New York University. Ginsburg, who is also the David B. Kriser Professor of Anthropology, has been writing about and curating with indigenous media producers since 1988. She began her research on indigenous media and cultural activism in central Australia and has hosted many visiting indigenous filmmakers from all over the world at the NYU Center for Media, Culture and History. She is completing a book called Mediating Culture: Indigenous Identity in a Digital Age.
For more information, visit the conference website.