David Sacks, assistant professor of clinical psychiatry, knows all about stress. As associate director of Vanderbilt's Psychological and Counseling Center (PCC), he frequently sees students who are seeking guidance on how to cope with pressure-filled situations. Roughly one in five students visits the PCC during his or her time on campus, and even more attend its outreach and prevention activities.
Drawing upon his background in sports psychology, Sacks often teaches students not just how to cope but how to excel under pressure, much like high-performing athletes. He argues that when stakes are high—whether on the playing field, in the classroom or in the office—one can influence the outcome by following these five tips.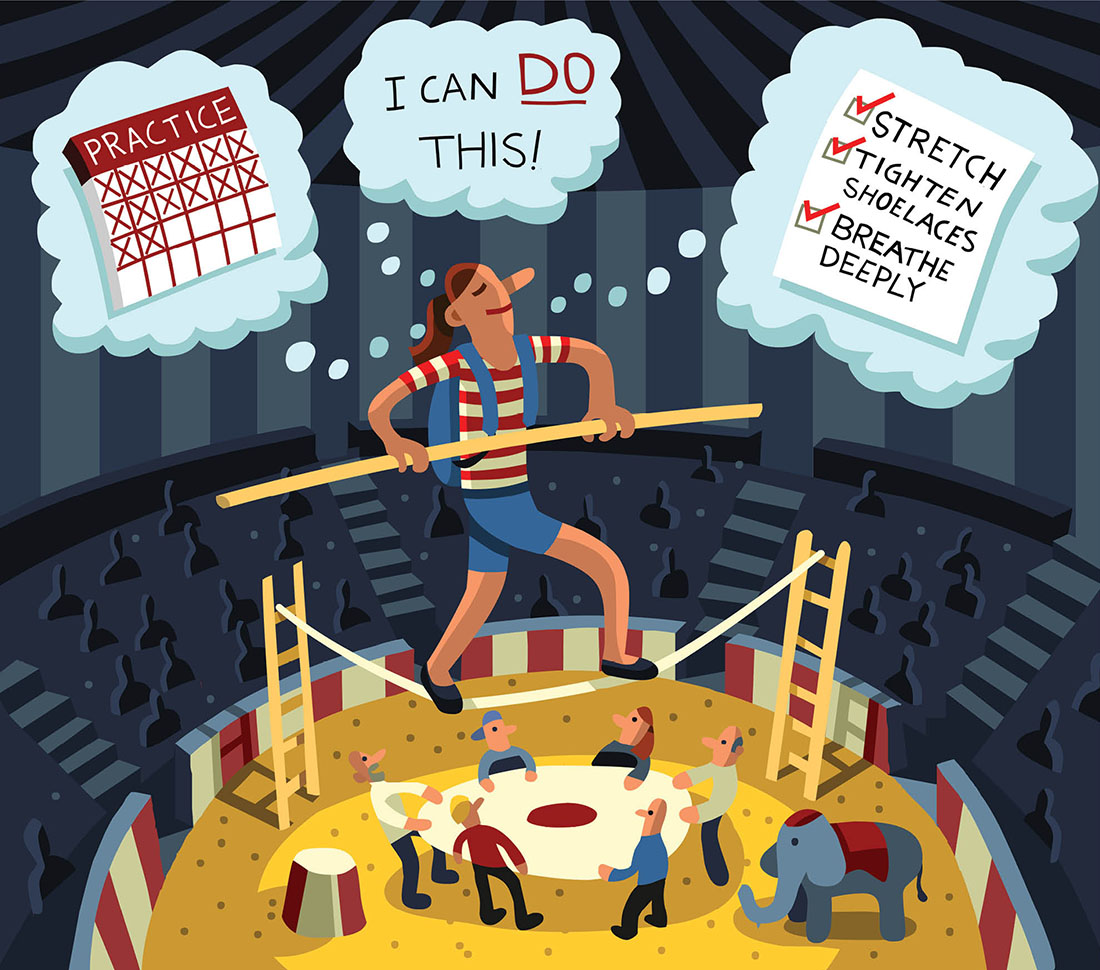 1. ENGAGE IN DELIBERATE PRACTICE.
"You'll never find an expert in his or her field who doesn't work hard at it, but there's a difference between practice and deliberate practice," Sacks says. "Deliberate practice involves setting goals. Ask recreational golfers what they're working on in their game, and they probably won't be able to tell you. But a professional golfer will."
2. FOCUS ON WHAT IS WITHIN YOUR CONTROL.
"During times of stress, there's nearly always something we can control," he says. "If we attribute outcomes, whether good or bad, to things outside of our control, we're not motivated to do anything differently in the future. The key is to move toward a controllable attribution."
3. THINK ABOUT THE UPSIDES OF SUCCESS, NOT FAILURE.
"When things go badly, we often catastrophize the situation, but the truth is failure usually isn't as bad as we make it out to be," Sacks says. "I like to use the metaphor of walking on a tightrope. Recognizing that you have a net under you can reduce your anxiety, and it's not your intention to fall and land in that net. Knowing that it's not a life-or-death situation can help you keep your focus on your goal of getting to the other side."
4. FOLLOW A PRE- AND POST-PERFORMANCE ROUTINE.
"It's really unfortunate when we worry about a task without working on that task. It isn't productive, and it ruins our leisure time," he says. "To combat this, most athletes have a simple routine, which gets them from their time off to their time on—like baseball pitchers between each pitch. I tell students to do something similar. Go to the same location each time to study, or during tests do short breathing exercises between questions."
5. DIVERSIFY YOUR LIFE INTERESTS.
"I encourage people, even when their time allocation is unbalanced, to give at least some thought to a diversity of issues," Sacks says. "Besides hobbies and exercise, I'd suggest talking to friends or family members who have no clue what you're invested in. If their affection for you is not contingent upon how you perform, they become your safety net."