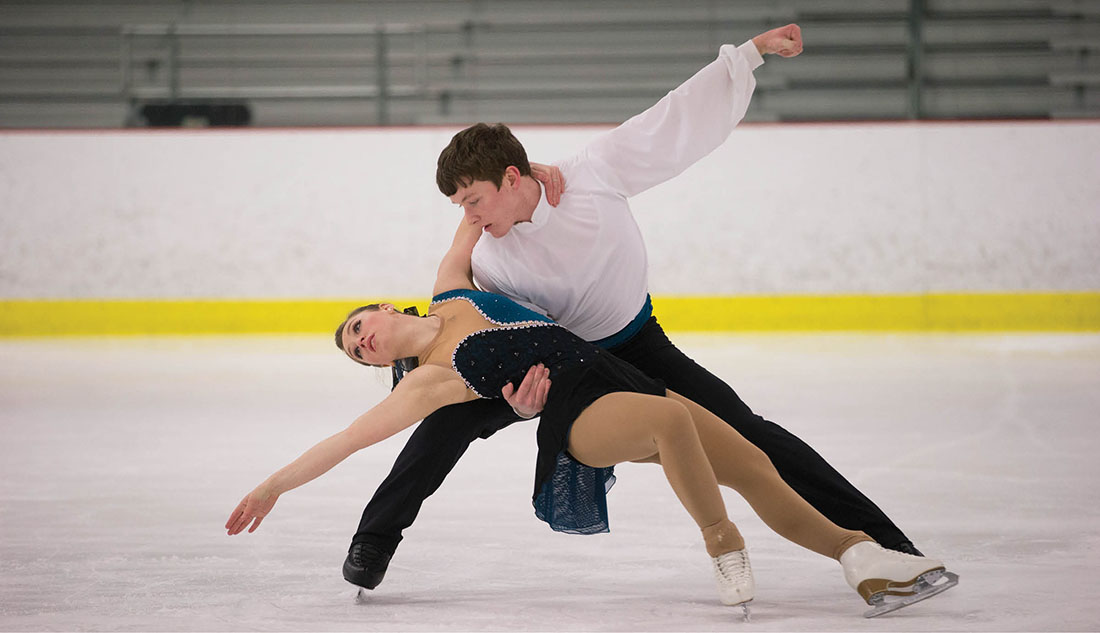 Balance comes naturally to Kenneth Anderson. A competitive figure skater, he has been gliding gracefully around ice rinks for nearly as long as he can remember. And yet as poised as he is on narrow steel blades, it's another type of balance that really determines his success on the ice.
Anderson is one-half of a pairs figure-skating team, and just how well he and partner Linde LaChance perform depends on the harmony between them—the tacit understanding and unshakable trust that can come only from nine years of practicing together.
"Compared to other pairs teams, Linde and I have a very good relationship. We've been together since 2006," says Anderson, a first-year student in the School of Engineering. "A lot of teams break up every year or two."
Anderson and LaChance, a first-year student at Belmont University in Nashville, met while growing up in Franklin, Tennessee. When coach Laura Sanders first paired them, it wasn't readily apparent to either that they were a good match. Anderson thought he should be skating with another girl who was similar in height and left-handed like him.
The pair, however, trusted Sanders and eventually grew—quite literally—into their roles as partners.
"Linde was taller than I was when we started. She's now 4 feet 10 and a half, and I'm 5 foot 9," he says with a grin. "I guess our coach saw something we didn't."
What Sanders saw was the potential for something special, and Anderson and LaChance have yet to disappoint. The two were ranked 10th in the nation at the U.S. Figure Skating novice level before passing a test last summer to compete at the junior level. They then finished 10th in junior pairs at the U.S. Figure Skating Championships in January. Potentially, they could make the jump to the Olympics-eligible senior level in time for the 2018 Winter Games, but for now they're just focusing on one competition at a time.
Anderson, for his part, isn't particularly worried about the teams they might face down the road. "Honestly, I don't follow skating that much," he says. "I couldn't really name any Olympics pairs teams."
That's not to say, though, that he doesn't take the competitiveness of the sport seriously. On any given weekday he might skate at a local ice rink in the morning before classes, skate again in the afternoon between classes, and then squeeze in a separate workout on campus later on.
"I remember an article in my high school newspaper that asked students whether certain sports should be considered 'sports,'" Anderson says. "Figure skating was one of them. Most thought it was a sport, but I remember one person arguing it's not competitive enough.
"Believe me, skating's extremely competitive."
In fact, the demands of the sport are such that he may not continue skating competitively after college. By then he hopes to be starting a career in chemical engineering, and chances are there won't be much time left over for the ice.
"I'm not sure what I'll do after graduation," he says. "I honestly can't see myself working and skating at the same time. But if I can do it, I probably will."
As with everything else in Anderson's life, it will all depend on finding the right balance.
—SETH ROBERTSON
---