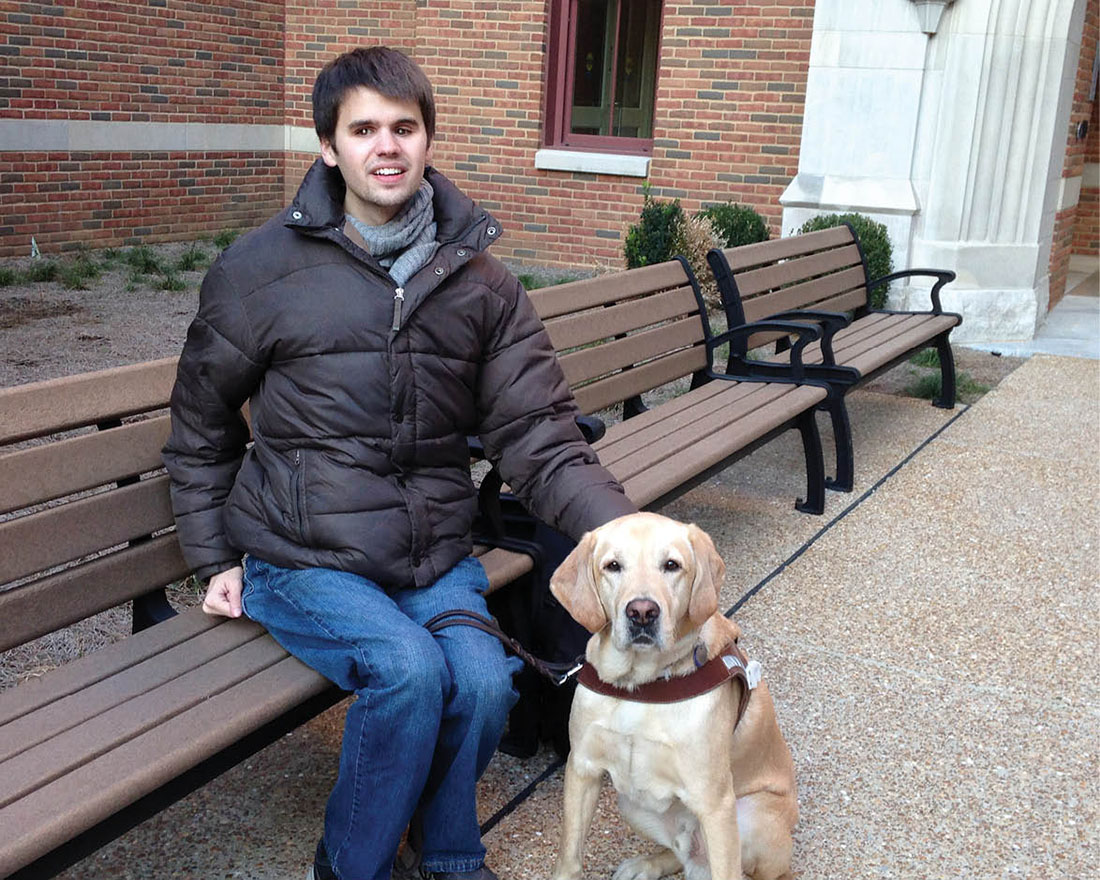 On a Monday afternoon last fall, Blair School of Music senior Kelby Carlson was crossing the street in front of the school, as he had done countless times. Carlson, who is blind, was with his service dog, a yellow lab named Elvis.
"I didn't hear any cars coming when I began to cross the street, which is what you do when you can't see—you listen," Carlson says. "About two-thirds of the way across, I heard a car to my right." The vehicle knocked Carlson to the ground. Elvis wasn't hurt.
Carlson's leg, however, was badly broken—his tibia and fibula fractured in three places. He spent several days at Vanderbilt University Medical Center and underwent surgery to implant metal rods in his leg.
Accidents like this sometimes happen on the busy streets around Vanderbilt's urban campus, but for those in the community with disabilities, distracted drivers can pose a particular threat. "And it's not only people like me who are affected—it's anyone with a condition that affects their physical mobility," he says.
When Carlson, a musical arts major from Woodbury, Minnesota, returned to class three weeks later, his Blair family rallied around him. The school gained access to a golf cart, and classmates from the Phi Mu Alpha music fraternity and others in the voice department devised a schedule to transport him between Blair and Furman Hall, where classes for his other major, philosophy, were held. Campus Dining allowed Carlson to order his meals in advance, and friends picked up the food from Rand and delivered it to his residence hall. Fellow performers in the Vanderbilt Opera escorted him to and from rehearsals.
Carlson serves as secretary for the Vanderbilt Disabilities Awareness Partnership, a student organization founded last year to raise awareness about disabilities and improve accessibility.
"A lot of disabilities are invisible, so you can't necessarily tell that a person has a disability just by looking at them," he says. "But everyone will encounter someone with a disability in their lifetime, and college is a great place to get people acquainted with some of those general issues."
---
Learn more about Vanderbilt services for students with disabilities.
---