By Randy Horick, MA'82 • Photography by Daniel Dubois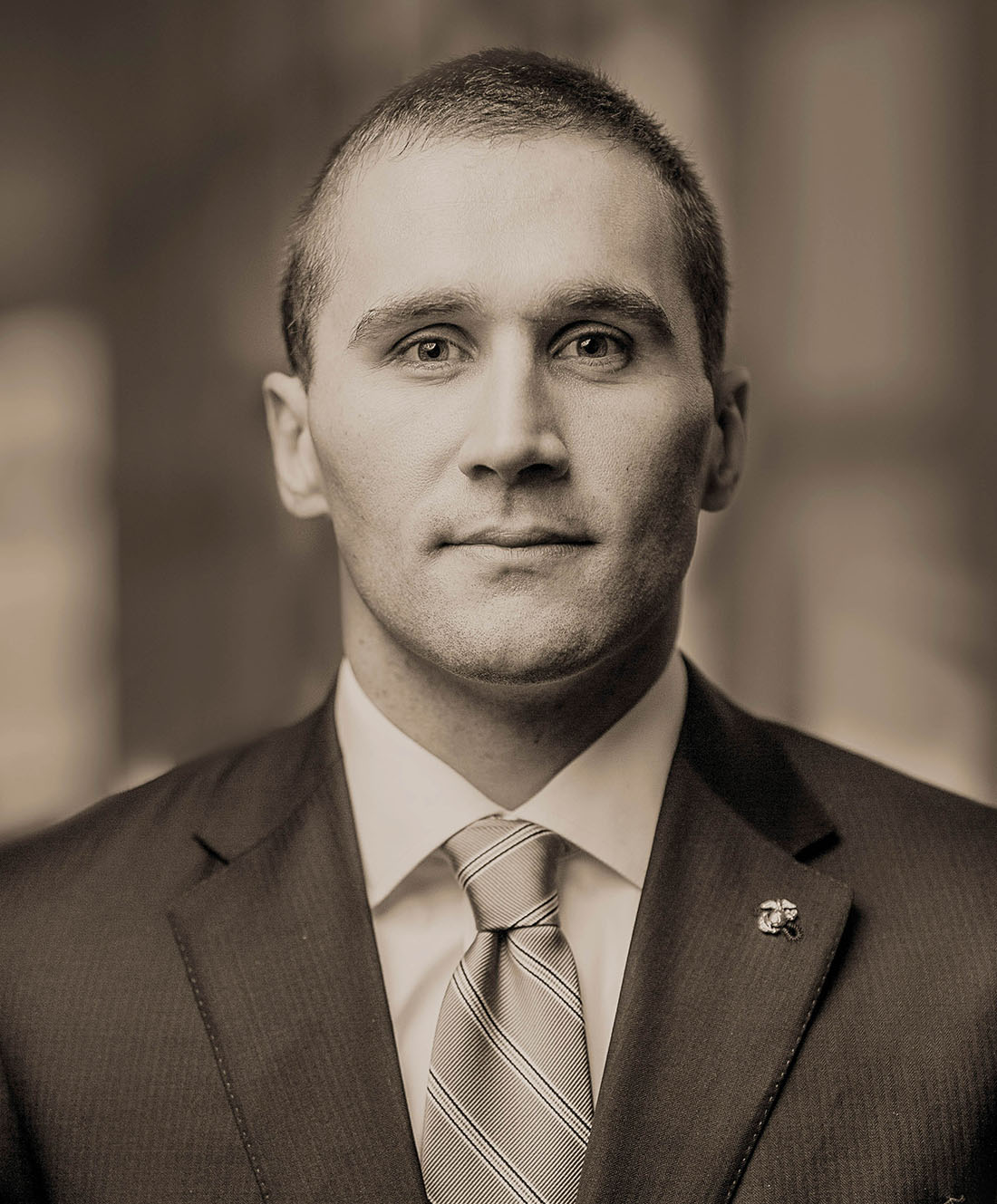 Jameson Norton clearly recalls the event that would determine the course of his life before his career had even started.
He was sitting in his senior English class at Nashville's Montgomery Bell Academy. First class of the day. Eight-thirty a.m.
Sept. 11, 2001.
"The dean of students interrupted the class and whispered something to the headmaster, who was our teacher at the time," Norton recalls. "Then the headmaster told us about the planes colliding into the buildings." The next day Norton was asked to lead the whole campus in prayer during a memorial service.
"That day was our Pearl Harbor. It essentially decided the next 12 years of my life."
Norton didn't rush to the nearest Marine recruiting station that day, but 9/11 directed his thinking. So, too, did the legacy of his grandfather, who fought on the black volcanic sands of Iwo Jima as a member of the 54th Marine regiment during World War II. After suffering a heart attack, Norton's grandfather had moved from his Murfreesboro farm to a senior living community not far from MBA's campus.
"I'd go after school and visit with him regularly," Norton recalls. "I got to know him at a deeper level. He had a Marine buddy from Clarksville named Joe Wiggins. They had a very strong bond from the war. Joe would come to visit every day; it was a powerful example of brotherhood in the Marine Corps."
By October, Norton's mind was set. "Joining the Marines," he says, "was a way to both honor my grandfather and fulfill a sense of duty." He applied for an ROTC scholarship at the University of Virginia, where he went on to earn an undergraduate degree.
His grandfather died the next February—but not before he'd learned that Norton had won the scholarship and had given his grandson his old service pin emblazoned with the Marines' eagle, globe and anchor emblem. After ROTC, Officer Candidate School and The Basic School in Quantico, Virginia, Norton joined his grandfather's old infantry unit, the 5th Marines in Camp Pendleton, California.
During the next four years, the Marines sent Norton all over the world. For one deployment he was part of an MEU (short for Marine Expeditionary Unit and one of the many acronyms that become part of the natural speech for military personnel) under PACOM (Pacific Command). They served as a rapid response team for any emergency situation in the area.
"We had to be flexible and train Marines for a broad spectrum of mission types and languages," Norton says. Those missions ranged from humanitarian assistance after a cyclone devastated Myanmar to working with Australian peacekeepers in East Timor to supporting Filipino Marines as they fought Islamist insurgents on Mindanao.
From Asia, Norton deployed to CENTCOM (U.S. Central Command) in the Mideast, where his unit trained for the eventuality of rescuing downed pilots and supported a special operation as part of Operation Enduring Freedom (the details are still confidential).
Back in Nashville, overseeing the operations of 37 Marine recruiting facilities, Norton contemplated a new career path in health care after seven years of active-duty service. "I could have stayed in the military forever," he says. "My wife and I got married between deployments, and we have a 2-year-old child—it was all a very unique sacrifice for her to make." In August 2013 he began his transition from battlefields to the business field when he enrolled at Vanderbilt Owen Graduate School of Management. He's on schedule to graduate in the top 5 percent of his MBA class in May.
Unlike Norton, Eden Murrie, a member of the Executive MBA Class of 2016, did not re-enter the civilian world until she had already completed a full military career. Graduating in the Air Force Academy's fifth-ever class to admit women, she flew KC-135s—the big tankers used for refueling B-52s in midair. "Some of those planes," she remembers, "were my age." She then served three tours as a wing commander in Germany, Belgium and the UK, and three more tours stateside in Washington, D.C., where Murrie—General Murrie, to subordinates—served as a legislative affairs fellow for the Air Force, working closely with U.S. Sen. Joe Lieberman, a member of the Armed Services Committee.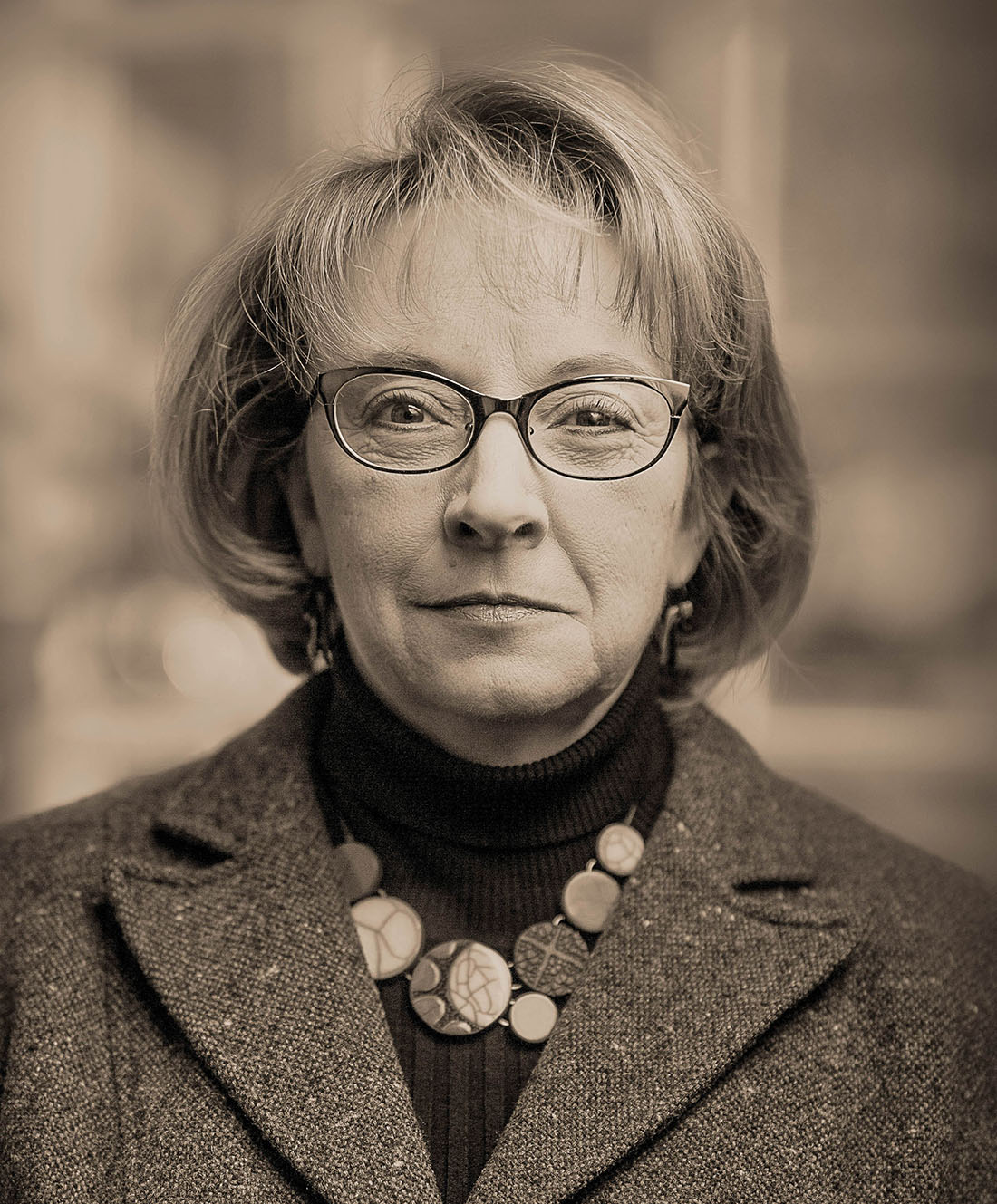 After retiring from the Air Force, Murrie and her husband, whom she met when they were both posted early in their careers at Ellsworth Air Force Base in South Dakota, spent a year traveling. She then launched a small consulting business. But she knew she needed more formal business education and a strong credential to establish the successful second career she wants to build in the nonprofit world.
Cmdr. Jaime Hernandez, a Navy pilot with 18 years of service experience, was supposed to be in Afghanistan instead of at Vanderbilt last year. He'd received orders to join an inter-service reconstruction team in the extremely dangerous eastern province of Kunar.
"I spent four months learning Pashto," Hernandez says. "Then about a week before I was to leave, they canceled my mission. I found out on Valentine's Day 2013, but I waited a week to tell my wife in case they changed their mind."
Hernandez wound up commanding the Navy recruiting office in Nashville. A year after that, he found himself in a place he says he'd never expected to be: earning an Executive MBA as part of Owen's Class of 2016.
As their varied paths converged in Nashville, Norton, Murrie and Hernandez reflect a growing trend: More U.S. military personnel are enrolling in business schools. That's especially true of officers who joined post-9/11 and now are transitioning out as American military involvement in Afghanistan and Iraq winds down and the armed forces downsize, leaving fewer opportunities for promotion.
"In the military culture, you work your way up the ladder," says Hernandez, who remains on active duty as he completes his studies at Vanderbilt and plans to complete at least one more tour. "One of the biggest anxieties for a career officer involves wondering whether that culture will continue as you move toward middle age," he says.
"I've never done anything business-related. It's all new to me." Now he'll have the skills and grounding he needs if he ultimately decides to leave the Navy. Getting his Executive MBA, he notes, "gives me confidence about my career."
PROBLEM-SOLVING LEADERS
As more soldiers leave the military and seek to enter the business world, Vanderbilt has emerged not only as a leading choice by military students but as one of the elite B-schools that has embraced those students most enthusiastically. This year active-duty and ex-military personnel make up more than 10 percent of the students enrolled in Vanderbilt's MBA program—and more than 20 percent of the Executive MBA cohort. That's an uncommonly high number for programs that are small by design.
Some, too, have entered Owen's one-year programs for young professionals, like Joshua Holley, who graduated from the school's innovative Master of Accounting program in 2011. Like Norton, Holley was a senior in high school on 9/11 and enlisted in the Marines after graduation. He served for the next four years in the 22nd and 26th Marine Expeditionary Units, then used the GI Bill to earn his undergraduate and master's degrees. The latter became his ticket to a job on Wall Street with EY (formerly known as Ernst & Young).
What has made Owen so attractive for military students, and vice-versa?
Parts of the equation are simple. Vanderbilt ranks among the top 25 in graduate business schools. Only three MBA programs (none named Harvard or Wharton) have a higher percentage of students with jobs waiting for them at graduation. The Executive MBA program, whose alternating weekend class format is designed for working professionals, and whose student base understandably tends to be more regional than national, is regarded as the best within a wide radius of Nashville.
For administrators at Owen, the calculus is equally basic: Students with military experience tend to be strong in qualities that schools can't teach but that correlate strongly with success—and that recruiters prize.
"A point of difference for MBA recruiters comes down to leadership, leadership, leadership," says Read McNamara, MA'76, a former Marine lieutenant who directs Owen's Career Management Center. "Our military students are mission-oriented, goal-oriented, problem-solving leaders. Out of 850 MBA graduates in the past five years, I can't think of one military student who didn't have at least one job offer at graduation."
Still, veterans say that without formal business education or experience, employers often overlook or undervalue the very qualities that make military students so highly regarded by Owen. As Eden Murrie discovered, that's true even if you're a general.
She particularly remembers an interview with a nonprofit organization after her retirement from the Air Force. "They said I had great experience but no P&L [profit and loss] and no fundraising," she recalls. "But I had overseen budgets; I'd had to defend programs and sell Congress on them. Running a program for the military is not so unlike running a program for a corporation. It's just not easy to convince employers how military experience translates."
FLEXIBILITY FOR MILITARY APPLICANTS
If some of the skills are similar, others are decidedly different. Administrators at Owen perceive that as an advantage.
Military students, for example, are far more likely than their peers to have international experience and heightened sensibilities regarding local cultures—a key asset in a business world that is now global. Military students tend to be a little older than others in their class, and more likely to be married with children. They bring valuable perspectives and life experiences to an environment in which students learn from each other as part of the program's design.
"The skill sets that military and civilian students have seem to complement each other very well," says Jameson Norton. "Many civilian students struggle with gaps in leadership development, such as dealing with uncertainty. But my experience in the military made that one of my strengths. On the other hand, I came in as a generalist, lacking certain tangible skill sets like spreadsheets that other students had already developed.
"We can also be a calming influence on [the civilian students] if they stress out. We can provide some perspective and tell them, 'You know, we're just taking a test; no lives are on the line for this one.'"
Few are in a better position to appreciate how well the military prepares people to succeed quickly in new and unfamiliar situations (like business school) than Kimberly Barboza, a member of the Vanderbilt EMBA Class of 2015. After the U.S. Naval Academy, where just 8 percent of her classmates were female, Barboza was in the first wave of women to serve aboard U.S. Navy combat ships. They were far from universally accepted.
By her reckoning, as she told a Women in Business luncheon at Owen, "One-third of the men wanted to work with you, one-third wanted to throw you overboard, and one-third wanted to take you home with them. The XO [executive officer] of my ship loved to humiliate females."
After her active duty ended—Barboza continued serving in the Navy Reserve—she went to work in another environment, information technology, where women traditionally have been few. "Ever since I graduated from high school," she reflects, "I've been part of a male-dominated world."
In hindsight, Barboza says she never thought of herself as a change agent, either in the Navy or in business. But her experience aboard a combat ship reinforced in her the fact she had been trained to adapt and perform well in unfamiliar settings. She remains proud of a great compliment received from a former shipmate. "He told me that, when women first came on board, he thought there was no purpose in us being there. A few years later he thought we were some of the best officers he had served with in the Navy."
Another simple reason Owen has been successful in attracting military students is that it actively courts them—and then goes the extra mile to accommodate their needs.
For one thing, as a participant in the U.S. Department of Veterans Affairs' Yellow Ribbon program (see accompanying sidebar article), Vanderbilt offers tuition discounts on top of education benefits that veterans may receive under the Post-9/11 GI Bill. Vanderbilt's financial aid staff helps vets navigate the frequently shifting, often bewildering array of requirements for accessing benefits. And Owen waives its usual application fees for all military candidates.
The Owen staff offers a great degree of flexibility for military applicants, whose duty assignments may deter them from coming to campus for a personal interview (they can use Skype instead), or who need an accelerated admissions decision, or whose enrollment plans are delayed by their service branch (Owen offers a one-year deferment). And the staff will help connect applicants with Owen students or alumni who are fellow veterans, based on branch of service and career interests.
"They understand the situations of people transitioning out," says Murrie. "They understand the language and the culture. They'll do workarounds for active-duty personnel. We have one medically retired vet in the class with combat injuries, and they set him up for success in the program."
"After my first visit to Vanderbilt, my choice was easy," says Holley, who was invited to the White House last year to participate in an event for military veteran entrepreneurs. "No other school understood all the business skills needed in a career as well as Owen."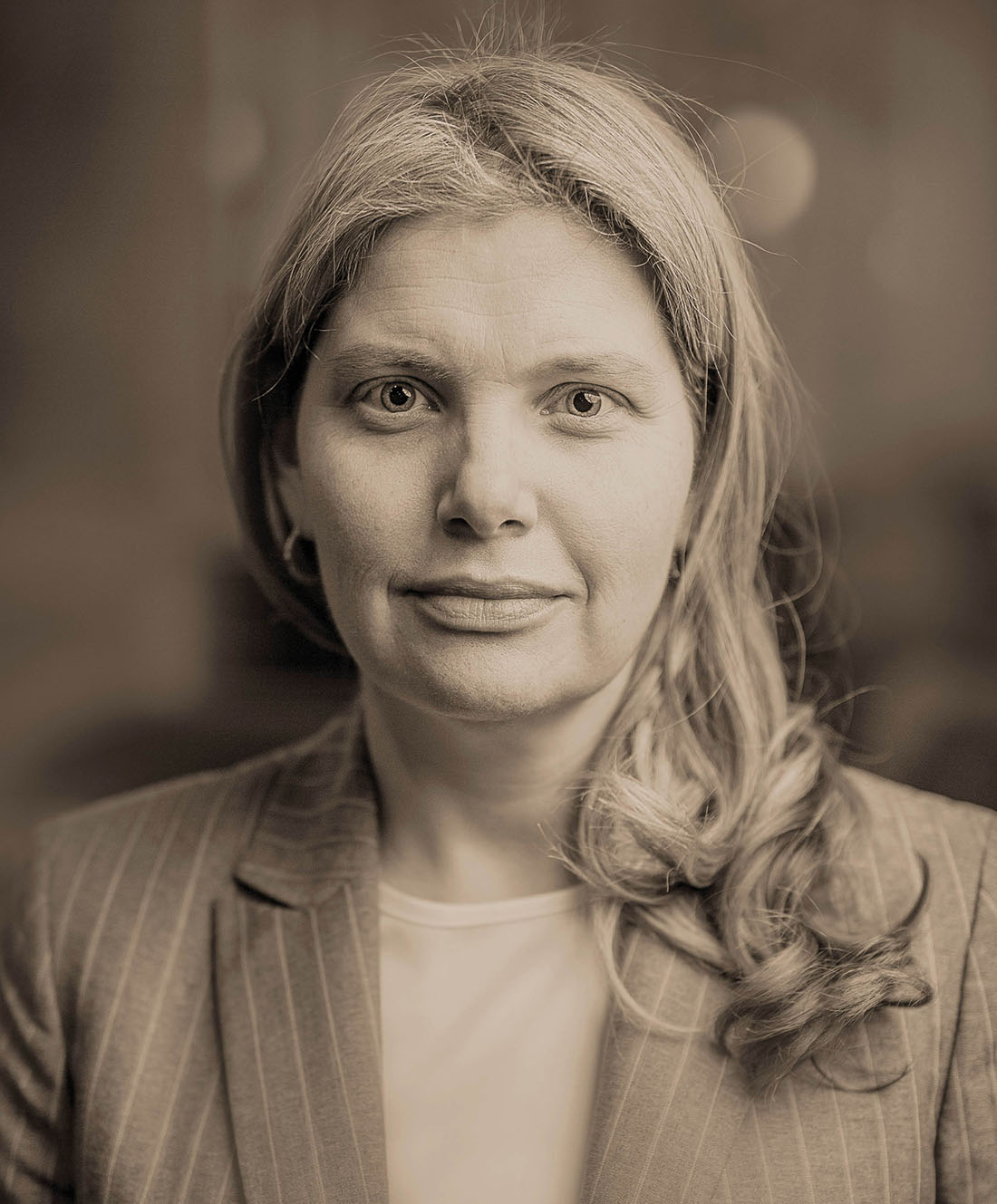 "IN THE SAME FOXHOLE"
In some ways, the welcome that military students receive could be seen as reflecting broader changes in American society, and campus culture in particular. Hernandez says his father, who flew Huey helicopters in Vietnam, "was received just horribly" when he came home to El Paso, Texas, where Hernandez grew up. They have talked about it a lot, and Hernandez has heard similar stories from others, like the four-star Marine general he once worked for. "The attitude of the public," Hernandez says, "is almost night and day."
The culture has changed so much, in fact, that military students often receive a label—hero—that most modestly decline. Instead, they point to others who didn't come home, some of whom are remembered on wristbands worn by several military students.
"I don't think any service members want to be called a hero," Norton says. "I know what a hero looks like. I had the honor of leading a sergeant who died courageously in Afghanistan on his fifth tour—Sgt. William Stacey. He had written a letter to his parents in case he didn't make it, and it shared in a powerful way why we were there, stating, 'If my life buys the safety of a child who will one day change the world, then I know it was all worth it.' He had turned down a baseball scholarship to join the Marines and was planning to get married and go to school upon his return. I had the privilege of meritoriously promoting him to sergeant. He is one of my inspirations.
"It means a lot to hear 'thank you for your service,' but those are the kinds of heroes that veterans are thinking about on Veterans Day and Memorial Day."
The difference at Owen seems to go beyond changes in American culture, however. Even more, perhaps, it involves what has always been part of Owen culture.
When the Owen School began in 1969, its founding administrators, tasked with building a business school from scratch, sought to create an educational experience centered on practice, not just theory. Since real-world business projects tend to be accomplished in teams, the administrators reasoned, Owen's MBA and Executive MBA programs should promote team-building skills that enable students to be successful business leaders.
The result of this collegial culture—a stark contrast to what students say they find in some other top business schools—is a close-knit, collaborative atmosphere that Owen touts as "competitive but not cutthroat." In this way the school's culture reminds military students of the best aspects of the all-for-one, leave-no-one-behind culture they treasured from their service experience.
Read McNamara remembers what it was like for him as a young military veteran feeling insecure about returning to school, and how much it meant to him to talk with a fellow veteran in his MBA program who understood. It's the kind of experience Owen promotes by connecting students to the military community within the larger community.
Owen, says Jameson Norton, "is not a machine with a thousand-person class like Harvard. It's very intimate. People know you and see you as an individual and are interested in your perspective. That's a huge benefit."
"Everything from the admissions process on has been friendly," says Eden Murrie. "But I don't think that applies only to the military students. I think they treat everybody this way."
McNamara recalls one of his first encounters after arriving at Owen in 2010. "I came in one Sunday and saw a group of four or five students in the lobby," he says. "As I got closer and could hear them talk, I realized that a second-year MBA student was telling first years about his interview with a company recruiting here. He was helping prep them for their own interviews with this company, even though they were all competing for the same job.
"When a military person sees something like that—and it's not uncommon at Owen—they know they've come to the right place. It goes back to the brotherhood ideal in the service. It's like being in the same foxhole with someone."
---
Randy Horick, MA'82, is a Nashville writer and owner of Writers Bloc Inc.
---

Look for the Yellow Ribbon
When veterans are considering a school, whether it's for an undergraduate education or a graduate program, one telltale sign they look for is a yellow ribbon. When they find it on the school's website or in a brochure, they know they've located an institution that's military-friendly.
Since the GI Bill of Rights was signed into law during World War II, the federal government has provided veterans returning from war as well as peacetime service with financial assistance to pursue higher education. The latest version of the GI Bill, the Post-9/11 Veterans Educational Assistance Act, expands these benefits for those who have served since Sept. 11, 2001.
The main provisions of the act include full funding of four academic years of educational benefits up to the cost of the most expensive undergraduate public tuition in the state. The Yellow Ribbon program helps veterans bridge the gap between this amount and the actual cost of tuition and fees at their schools by allowing participating institutions to share the cost with the federal government.
Universities participating in this educational benefit program administered by the U.S. Department of Veterans Affairs, such as Vanderbilt, offer significant tuition discounts for military students who present a certificate of eligibility from the VA. For students at Vanderbilt Owen Graduate School of Management and Vanderbilt Law School, the award can be up to $10,000, depending on the student's unmet need. For other schools within the university, the aid can be up to $6,000.
"When I was living in D.C. and considering Executive MBA programs," recalls Gen. Eden Murrie, "I visited Vanderbilt's website and saw they had the yellow ribbon. I knew it was a welcome sign."
---