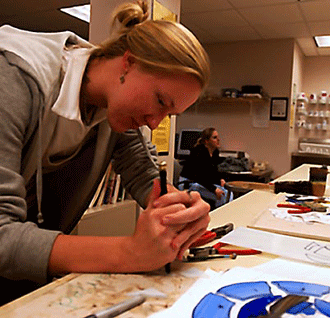 Sarratt Art Studios is pleased to offer a selection of our most popular classes for summer 2015: Beginning Pottery, Fused Glass, Introduction to Studios, Experimental Photography, Intermediate Pottery, and Intermediate Metal Smithing.
Classes are open to ages 16 and up, and registration begins April 20. Classeswill begin the week of May 18.
Summer classes are a great opportunity and affordable way to try something new without the pressure of worrying about a grade. All classes are conveniently held at Vanderbilt's Sarratt Student Center. For more information, visit our website.
Sarratt Youth Art Institute
Voted Best Kids Camp of Nashville in the 2012 Nashville Scene Reader's Poll, the Sarratt Youth Art Institute is planning another busy and exciting summer of art in 2015.
Registration is now open. The Sarratt Youth Art Institute is open to ages 5–16. Participants explore clay, painting, sculpture, drawing, printmaking, sculpture and textile arts, while making new friends and learning about the wonderful world of art.
Visit our website for more information.
Art intensives new for summer 2015
Students age 13–16 will have the opportunity to spend three hours in the morning and then three hours in the afternoon in the Sarratt Art Studios exploring specific topics and art mediums.
Summer is the perfect time to create work for a portfolio or really concentrate on specific art skills. Studio courses include black/white photography, fiber arts, pottery on the wheel, drawing and painting and short film and animation.