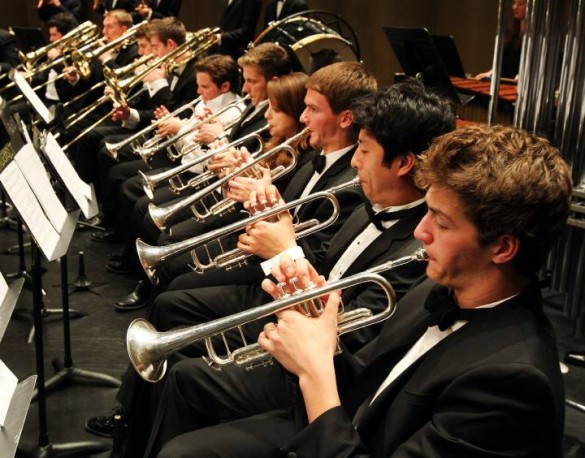 The Vanderbilt Wind Symphony will premiere new works during the opening concerts of the College Band Directors National Association (CBDNA) conference to be held at the Blair School of Music March 25-28.
The CBDNA, which holds its national conference every two years, chose Blair more than three years ago to host the 2015 conference. Not only will Blair host the conference, but the Vanderbilt Wind Symphony was chosen to play the opening concerts of the conference—a rare opportunity for an undergraduate ensemble. To mark the occasion, two new works were commissioned for the ensemble.
"I'm extraordinarily proud of our kids," says Thomas Verrier, associate professor and director of wind studies at Blair. "It's amazing not only to be invited to host, but to be invited to play the opening concert as well."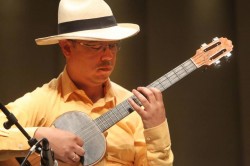 The program will open with a piece by Colombian composer Carlos Guzmán-Muñoz called Golpe de Chipola. Verrier, who has worked in South America with Sistema music education programs, asked Guzmán-Muñoz to write a piece for the Vanderbilt Wind Symphony to play at the conference. In order to thoroughly indoctrinate the students to Colombian traditional rhythms, Guzmán-Muñoz visited Blair last October for a series of workshops and rehearsals that culminated in the world premiere of the work at Ingram Hall while the composer was in residence. The additional time to rehearse the piece "really helps us get as close as we can to playing it authentically," says Verrier, "like real Colombianos."
The second piece on the program, Monument, by Michael Kurek, associate professor of composition, will be given its world premiere at the conference in honor of Dwayne Sagen, Blair's assistant dean for admissions and Vanderbilt's director of bands. Sagen, who is retiring at the end of the academic year after 29 years at Vanderbilt, will conduct the piece.
"Dwayne is the dean of SEC band directors," says Verrier. "I'm excited to give him the acknowledgement he so rightfully deserves and to acknowledge Michael Kurek, our faculty composer, too."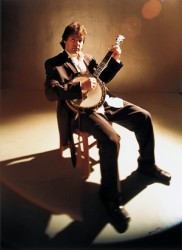 The rest of the program includes yet more firsts. Béla Fleck's The Impostor: Concerto for Banjowas premiered by the Nashville Symphony in September 2011. During a site visit by CBDNA President Steve Peterson earlier that year to evaluate Blair as conference host, Peterson and Verrier visited Schermerhorn Symphony Center during the symphony's first reading of the piece. Not only did Fleck grant Verrier permission to transcribe the piece for wind ensemble, he himself will join the Vanderbilt Wind Symphony as featured soloist for its debut performance.
Come, Drink One More Cup was written for and premiered in 2007 by the Vanderbilt Wind Symphony. Chinese composer Chen Qian based the work for Western wind instruments with traditional Chinese percussion on a famous poem by Tang poet and musician Wang-Wei.
The program will close with Three City Blocks by Pulitzer Prize-winning composer John Harbison. The inclusion of the Harbison piece highlights Blair's long relationship with performing rights organization Broadcast Music Inc. (BMI), which has sponsored Blair's composer-in-residence program since 1992. Harbison visited Blair as BMI Composer-in-Residence in February 2000 and his residency for this performance is also sponsored by BMI. Although Three City Blocks was written in 1993, this will be its first performance as a multimedia dance piece. The idea was Verrier's.
"I connected with Harrison Guy, artistic director and choreographer for Urban Souls Dance Company," Verrier says. "I sent him MP3s of Three City Blocks and asked if he would like to come to Nashville to dance with us. It took him about 10 minutes to respond. He's bringing the entire dance company from Houston.
[rquote]"I wanted to put together a program that would be uniquely Nashville and uniquely the Blair School. I wanted to do something that would make people walk out of our concert and say, 'I've never heard that before. I'm in Nashville, and the Blair School is something special.'"[/rquote]
The opening concerts featuring the Vanderbilt Wind Symphony will take place on Tuesday, March 24, and Wednesday, March 25, at 8 p.m. in Ingram Hall.
Concerts featuring other collegiate wind ensembles will take place throughout the conference at both Ingram Hall and Schermerhorn Symphony Center. All concerts are free and open to the public, although priority seating will be reserved for conference attendees. Please visit the Blair School of Music website for updated information on times and venues.
Thursday, March 26
1:30 p.m., Schermerhorn Symphony Center
Columbus State University Wind Ensemble, Jaime Nix, conductor
3:00 p.m., Schermerhorn Symphony Center
The Ohio State University Wind Symphony, Russel Mikkelson, conductor
7:30 p.m., Schermerhorn Symphony Center
Indiana University Wind Ensemble, Steven Pratt, conductor
Friday, March 27
1:30 p.m., Schermerhorn Symphony Center
James Madison Wind Symphony, Stephen Bolstad, conductor
3:00 p.m., Schermerhorn Symphony Center
Temple University Wind Symphony, Emily Threinen, conductor
7:30 p.m., Schermerhorn Symphony Center
Florida State University Wind Orchestra, Richard Clary, conductor
Saturday, March 28
1:30 p.m., Ingram Hall
Small College Intercollegiate Band, Ray Cramer, conductor
8:00 p.m., Schermerhorn Symphony Center
University of Illinois Wind Symphony, Linda Moorhouse, conductor