Oscar Touster, professor of molecular biology and biochemistry, emeritus, and first chair of the Department of Molecular Biology in Vanderbilt's College of Arts and Science and Graduate School, died Feb. 27. He was 93.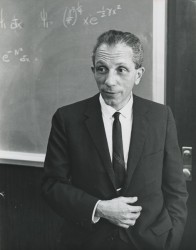 "Oscar Touster was one of the individuals who transformed Vanderbilt from a small regional institution to a world-class educational and research center," said Conrad "Connie" Wagner, professor of biochemistry. "He was an outstanding scientist who worked in the fields of the processing of glycoproteins."
He also mentored a variety of students who went on to distinction, Wagner said. "Oscar was unique."
Touster grew up in a multicultural New York City neighborhood. He majored in chemistry and minored in education at the College of the City of New York (CCNY), graduating in 1941 with a bachelor of science degree.
"My mother was a school teacher and so were several uncles and aunts," he told the Vanderbilt Alumnus in 1979. "It was what they called a dependable future for someone who had to make his living as soon as possible."
Touster attended Oberlin College on scholarship; however, shortly after graduating with his master's degree in 1942, his scientific career was redirected by the onset of World War II. That summer, he trained as a lab supervisor at Atlas Powder Company for TNT plants then under construction. Later that year, he started work at a new plant in Paducah, Kentucky, where he met his future wife, Eva.
By 1943, Touster was a research biochemist at Abbott Laboratories working with professor Herbert Carter's lab at the University of Illinois doing secret research to isolate the drug penicillin. After the war ended, he continued his work with Carter to obtain his Ph.D. in biochemistry.
On receiving his doctorate in 1947, Touster joined the biochemistry faculty at Vanderbilt's School of Medicine. His interest in carbohydrate metabolism led to innovative studies of pentose metabolic pathways. For this work, he was the recipient of the Theobald Smith Award of the American Association for the Advancement of Science in 1956. In 1957, he won Guggenheim and Howard Hughes fellowships, which enabled him to spend time at Oxford University in association with Hans Krebs' laboratory. During that time, he also went on a lecture tour of 10 German universities, sponsored by the U.S. Information Agency. Over the course of his career, he published widely in a variety of books and journals, including Organic Reactions, the American Journal of Medicine, the Encyclopedia of Biochemistry and Molecular and Cellular Biochemistry.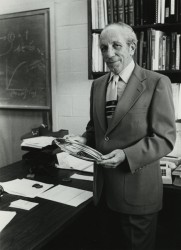 In 1963, Touster was given the opportunity to establish a Department of Molecular Biology in Vanderbilt's College of Arts and Science and Graduate School and was appointed chair of the department by Chancellor Alexander Heard.
"The revolution [brought by the electron microscope] challenged physicians, mathematicians, chemists and research-oriented physicians to apply new ways of studying fundamental biological mechanisms," he told the Vanderbilt Alumnus. "And the new methods were gathered together under the umbrella title of Molecular Biology."
His work as a teacher and administrator was equally as important as his research. One student describing his style of teaching said, "He assumes we can find the information we need in the textbook. What he wants to impart is a kind of intellectual esthetic, to instill in his students his feeling for the beauty of the scientific process."
The 2000 Distinguished Alumnus Award recipient, Antonio Gotto, dean emeritus of Weill Cornell Medical College, credited Oscar Touster with exercising great influence over his career. He worked in Touster's lab, both as an undergraduate and as a medical student.
Touster received the Thomas Jefferson Award in 1977 in recognition of his service to the university as chair of the Faculty Senate and for work on other university committees and councils. In 1982 he received the Harvie Branscomb Award for distinguished accomplishment in furthering the aims of the university. He was president of Oak Ridge Associated Universities from 1976 to 1988 and chair of the ORAU Board of Directors from 1988 to 1991.
Touster hired Gerald Stubbs for the molecular biology department in 1983. Now professor of biological sciences, emeritus Stubbs said, "I remember him as an incredibly kind, wise and helpful mentor in the days when I was a new assistant professor, at times quite lost coping with what was for me a new world. In teaching, research, and administration, and even just settling in to the South, I remember times when without his help I simply would not have known how to go forward. I wish that every young faculty member could have a mentor like Oscar Touster."
Thomas Oeltmann, associate professor of medicine, emeritus, recalled that he had a joint lab meeting with Touster for more than 25 years. "He was a critical thinker, excellent mentor and teacher, and served the university with a zeal we don't see much these days," Oeltmann said. [lquote]"He was unselfish in every way. He was everything one wanted as a colleague. He was a great man, he was my friend, and I will miss him."[/lquote]
Touster was predeceased by his wife of 65 years, Eva Touster, poet and professor of English, emeritus, at Peabody College. He is survived by his daughter, poet Alison Touster-Reed, and two grandchildren, Julia and Jeremy. The Tousters were founding members of Greater Nashville Unitarian Universalist Congregation in Bellevue, Tennessee.
A memorial service will be held Saturday, March 21, at 2 p.m., at Benton Chapel on the Vanderbilt campus. The family asks that no memorial gifts be made.