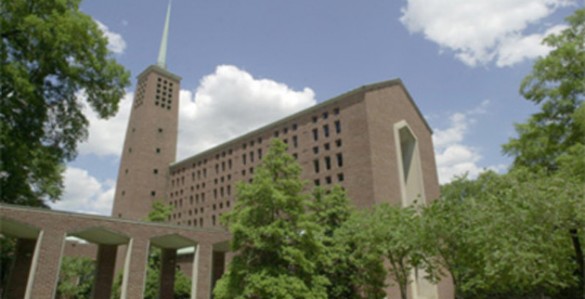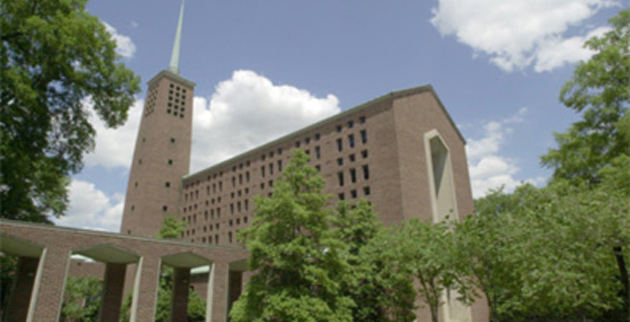 The Rev. Dr. Fred B. Craddock, a Divinity School distinguished alumnus who transformed the field of homiletics and preaching, died March 6 in Blue Ridge, Georgia. He was 86 years old and had suffered from Parkinson's disease.
Craddock, who earned his doctorate from the Graduate Department of Religion in 1964, was honored in 2011 as the Alumnus of the Year by the Disciples Divinity House at Vanderbilt.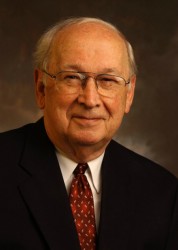 "Fred stands out to me as the best Disciples of Christ preacher of his generation," said Mark Miller-McLemore, associate professor of the practice of ministry and dean of the Disciples House at Vanderbilt. "My copies of his commentaries on Preaching through the Christian Year are falling apart from use. His stories and sermons will be with us for a long time."
Craddock was honored in 1998 as the Divinity School's Distinguished Alumnus. Colleagues and friends paid tribute at a University Club luncheon as part of the university's homecoming celebration. That weekend, Craddock spoke on "Faith Within the Shadow" at a Divinity School community breakfast and taught a master class.
"Fred Craddock, as both person and preacher, was a gifted story teller, and his influence on other preachers bore the stamp of his interest in moving sermon listeners slowly toward conclusions – in a way similar to a good story," said John McClure, the Charles G. Finney Professor of Preaching and Worship.
Craddock was born in Humboldt, Tennessee. He earned bachelor's degrees from Johnson's Bible College in 1950 and Phillips University in 1953. During his graduate studies at Vanderbilt, he served as pastor at a Disciples church in Columbia, Tennessee, which led to some of his reflections on preaching style. His dissertation was titled "Christology and cosmology: an investigation of Colossians 1: 15-20."
McClure noted that during the 1970s, Craddock began promoting "inductive preaching" as a way to meet the growing interest in more participative and dialogical forms of communications in the pulpit. "Craddock re-imagined preaching as a more cooperative form of communication in which preacher and listener could share a common journey toward new insights and interpretations of faith," McClure said. "In order to accomplish this, he challenged preachers to create and sustain more ambiguity in their sermons and to delay the arrival of final meanings and conclusions."
Ordained in the Christian Church, Craddock taught at Phillips University before joining the faculty at the Candler School of Theology at Emory University in 1979. Craddock returned to Vanderbilt in 1981 to deliver that year's Cole Lectures, titled "How the Word Sounds." It is available on CD at the Vanderbilt Divinity Library.
In 1996, Newsweek magazine named Craddock one of the 12 most influential preachers in America. Craddock was also a prolific writer. One his books, Preaching, was ranked number four on Preaching magazine's 2010 list of the 25 most influential preaching books of the past quarter century.
McClure said that Craddock believed good sermons are open-ended, "inviting the listener to join in a mutual discovery of the sermon's overall message."
Miller-McLemore had never really considered preaching until he attended the Seminarians Conference in 1978. "During the conference, a student colleague from Phillips Seminary told me I really ought to read Overhearing the Gospel by one of their professors, Fred Craddock," he said. "I hadn't yet read something that made such an eloquent and well-reasoned case for rethinking our approach to the 'how' as well as 'what' in preaching. Craddock reminded us that the point of the Christian faith is to live it; and that the point of preaching is to communicate it in ways that help people hear and live anew in light of the Gospel."
Craddock retired from Candler in 1994 as the Bandy Professor of Preaching and New Testament, emeritus. He then served as pastor of Cherry Log Christian Church in North Georgia. In 2001, the Craddock Center was established by that church's board. Named for Fred and Nettie Craddock, the center enriches the lives of the people of Southern Appalachia through programs of education, cultural enhancement and service. It seeks to encourage communities, families and children to advance educationally, socially and spiritually.
He is survived by his wife, Nettie, and two children, Laura and John.