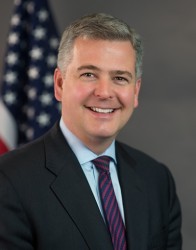 Daniel Gallagher, a commissioner of the U.S. Securities and Exchange Commission, will deliver the keynote speech March 27 during a law and business conference sponsored by the Law & Business Program of Vanderbilt Law School and Vanderbilt's Owen Graduate School of Management.
Gallagher, who was sworn in as commissioner in 2011, will speak at 1 p.m. in the Lyric Room of the Loews Vanderbilt Hotel Nashville at 2100 West End Ave. and be introduced by James H. Cheek III, a senior partner of the Bass, Berry & Sims law firm who teaches corporate law at Vanderbilt. Gallagher was on the front lines of the national financial crisis when he served as co-acting director of the Division of Trading and Markets at the SEC from April 2009 to January 2010.
The SEC and other federal regulatory agencies have faced numerous challenges in the past few years. The conference will examine current and future regulatory initiatives in the areas of money market fund reform, high frequency trading, whistleblowers and capital formation under the JOBS Act. Top regulators, practitioners and academics will discuss the latest developments in each field as well as future potential necessary actions.
[lquote]The theme of the conference is "Developing Areas of Capital Market and Federal Securities Regulation."[/lquote] Attendance counts as 6.75 hours of continuing legal education credits. Registration is required to attend. The registration fee is $495, and more information is available here. Reporters who wish to attend should contact Jim Patterson at jim.patterson@vanderbilt.edu.
M. Eric Johnson, Ralph Owen Dean and Bruce D. Henderson Professor of Strategy at Owen, and Chris Guthrie, dean and John Wade-Kent Syverud Professor of Law at Vanderbilt Law School, will introduce the conference at 8:15 a.m.