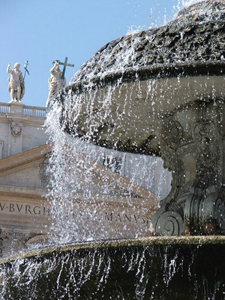 Katherine Rinne, an urban designer and historian of Renaissance and Baroque architecture and urbanism, will deliver the Norman L. and Roselea J. Goldberg Lecture March 12 at Vanderbilt University's Cohen Hall.
Rinne's talk, "From Renaissance to Baroque: Water and Fountains in 16th-Century Rome," will begin at 4:10 p.m. in Room 203.
Rinne, adjunct professor in the architecture program at California College of the Arts, is the author of The Waters of Rome: Aqueducts, Fountains, and the Birth of the Baroque City (Yale University Press, 2011). In her book, Rinne presents a unified vision of Rome during the Baroque period that links improvements to public and private water systems with political, religious and social change. Tying together the technological, sociopolitical and artistic questions that faced the designers during an age of turmoil, Rinne shows how these public works projects transformed Rome through innovative engineering and strategic urban planning.
The Waters of Rome was awarded the John Brinckerhoff Jackson Prize for Landscape History by the Foundation for Landscape Studies in 2011. The book also received the Spiro Kostof Book Award for Urban History in 2012 from the Society of Architectural Historians.
Rinne also studies current issues related to urban development and water scarcity. She is the project director for an ongoing Web-based research project called Aquae Urbis Romae: The Waters of the City of Rome. The project examines the 3,000-year history of water infrastructure and urban development in Rome. It is published by the University of Virginia, where Rinne is an associate fellow at the Institute for Advanced Technology in the Humanities.
A reception in the Cohen Hall atrium follows her lecture. The Goldberg Lecture, sponsored by the Department of History of Art and the Archaeological Institute of America, is free and open to the public. Limited parking is available in Lot 95 by Cohen Hall. For more information, call (615) 322-2831.
Fay Renardson contributed to this story.