Nobel laureate to discuss 'Irrational Exuberance Revisited' March 12
Mar. 3, 2015, 10:19 AM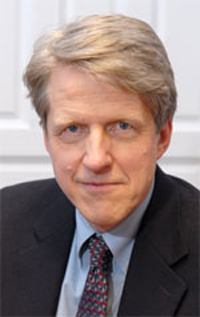 Yale University professor Robert J. Shiller, winner of the 2013 Nobel Prize in Economics, will discuss the new third edition of his book Irrational Exuberance (Princeton University Press, 2015) on Thursday, March 12, at Vanderbilt.
The lecture is scheduled from 4 to 5:30 p.m. in the Central Library Community Room. It is free, and all members of the Vanderbilt community as well as the public are invited to attend.
The first edition of Irrational Exuberance, a New York Times bestseller, was published at the peak of the Millennium Boom in 2000. The updated version uses behavioral economics to try to make sense of the housing boom and crash after 2000, the 2008 financial crisis, and the booms in the stock, bond and housing markets leading into 2015.
A reception with Shiller will follow the lecture. The event is sponsored by Vanderbilt's Department of Economics.
Contact: Elizabeth TeSelle, (615) 322-2460
elizabeth.teselle@vanderbilt.edu