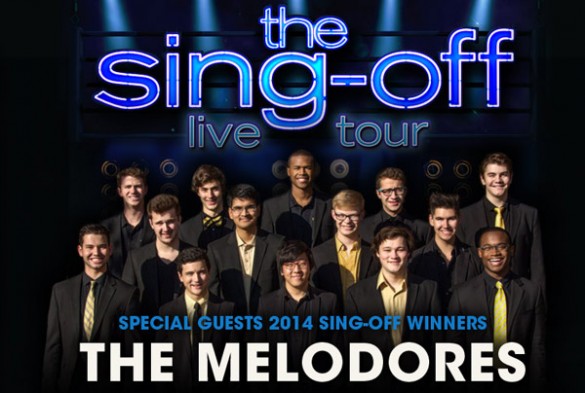 The Vanderbilt Melodores, reigning champions of NBC's a cappella performance competition The Sing-Off, will launch a 13-performance leg of The Sing-Off Live Tour Feb. 28 in Wilmington, Delaware. Additional stops on the tour will take the group, which consists entirely of current Vanderbilt students, to venues along the East Coast and through the Midsouth.
Incidentally, the Melodores' stop at Nashville's famed Ryman Auditorium March 15 will be book-ended by three sold-out Ryman shows by Irish singer-songwriter Hozier, whose hit "Take Me To Church" the Melodores memorably performed to win the 2014 Sing-Off title in December.
The Melodores' complete Sing-Off Live Tour schedule:
Feb. 28: The Grand Opera House – Wilmington, Delaware
March 1: Keswick Theater – Glenside, Pennsylvania
March 2: The Wilbur Theater – Boston, Massachusetts
March 3: Community Arts Center – Williamsport, Pennsylvania
March 4: Sands Bethlehem Event Center – Bethlehem, Pennsylvania
March 5: Memorial Auditorium – Raleigh, North Carolina
March 6: Chrysler Hall – Norfolk, Virginia
March 7: Warner Theatre – Washington, D.C.
March 8: North Charleston Performing Arts Center – North Charleston, South Carolina
March 9: Cobb Energy Performing Arts Centre – Atlanta, Georgia
March 15: Ryman Auditorium – Nashville, Tennessee
March 16: Tennessee Theatre – Knoxville, Tennessee
March 25: Palace Theatre – Louisville, Kentucky
Other performers on The Sing-Off Live Tour include Voice Play, Street Corner Symphony and The Exchange. For more about the tour and ticket information, visit www.singofftour.com.
Follow the Melodores on tour using Facebook, Instagram and Twitter.