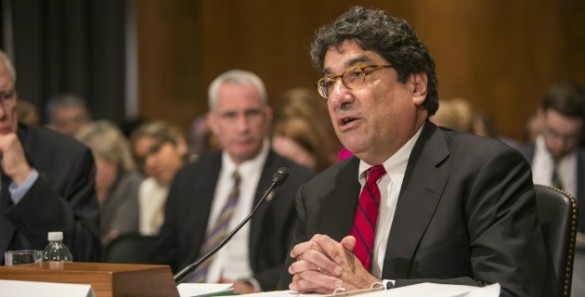 Oversight of higher education has expanded to the point of undermining the ability of colleges and universities to function in a dynamic economy, testified Vanderbilt Chancellor Nicholas S. Zeppos before the U.S. Senate Health, Education, Labor and Pensions (HELP) Committee.
"Many of the department's regulations are well intended but unnecessarily voluminous, too often ambiguous, and the cost of compliance has become unreasonable," Zeppos said during his testimony Feb. 24 in Washington. "It is having a real impact on costs of college and tuition. Even more troublesome, we are very concerned that these regulations stand as a barrier for students' access to college education."
Zeppos co-chaired the Task Force on Government Regulation of Higher Education, which on Feb. 12 released a report on streamlining and reducing federal regulations for America's colleges and universities while protecting students and taxpayers.
"The underlying premise of our work is the belief that smart, better regulations protect students and families, keep them safe and hold colleges and universities accountable for the considerable public dollars we receive," Zeppos said in his opening statement. "Tax payers and the government … have the right to know that these funds are being spent wisely. Thus we embrace the need for federal regulations."
The Task Force on Government Regulation of Higher Education was formed in November 2013 by four senators who serve on the HELP Committee: Sen. Lamar Alexander, R-Tenn. (the current chairman of the committee), Sen. Barbara Mikulski, D-Md., Sen. Richard Burr, R-N.C., and Sen. Michael Bennet, D-Colo. The senators charged the task force with conducting a comprehensive, nonpartisan review of the Department of Education's regulations and reporting requirements on colleges and universities.
Chancellor William E. Kirwan of the University System of Maryland co-chaired the task force with Zeppos and also testified before the HELP Committee.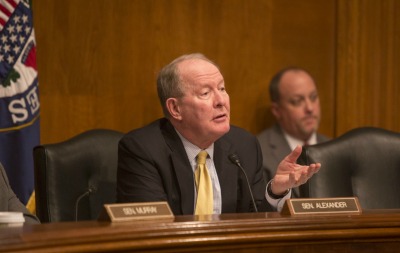 In his opening remarks, Alexander stated, "The Higher Education Act totals nearly 1,000 pages; there are over 1,000 pages in the official Code of Federal Regulations devoted to higher education; and on average every workday the Department of Education issues one new sub-regulatory guidance directive or clarification.  No one has taken the time to 'weed the garden.' The result of this piling up of regulations is that one of the greatest obstacles to innovation and cost consciousness in higher education has become—us, the federal government."
Alexander continued, "The report makes clear that colleges and taxpayers expect appropriate regulation. But neither taxpayers nor colleges are well-served by the jungle that exists today. Consumer information that is too complicated to understand is worthless."
Read Chancellor Zeppos' full statement and watch video of the hearing.