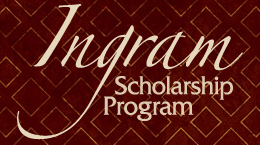 Thirteen incoming first-year students have been chosen as the newest members of the Ingram Scholarship program. The 13 are among 831 high school seniors who applied for the prestigious program.
Members of the new class are:
Elizabeth Carsello, Weston, Florida
Daniel Cho, Englewood Cliffs, New Jersey
Samantha Cousino, Chicago, Illinois
Subhash Gutti, Pikeville, Kentucky
Kelly Hunt, Hendersonville, Tennessee
Marcelina Kubica, Ogden, Utah
Robert Lee Jr., Memphis, Tennessee
Camille Powers, San Antonio, Texas
Kyle Schwartz , Minneapolis, Minnesota
Priya Trivedi, Naperville, Illinois
Haydon Tucker, Signal Mountain, Tennessee
Gabriel Voorhis-Allen, Ridgewood, New Jersey
Meredith Waites, Springfield, Missouri
They will join the approximately 240 Vanderbilt students and alumni who have been awarded the Ingram Scholarship since 1994. From that first class of four undergraduates and two incoming freshmen, the program has grown to include approximately 50 Ingram Scholars attending the university at the same time.
The program was conceived in 1993 by E. Bronson Ingram, president of the Vanderbilt University Board of Trust from 1991 until his death in 1995, as a way to encourage students to combine a professional career with a commitment to community service.
Ingram Scholars are required not only to volunteer for community service but also to design and implement projects that address significant community needs. The program encourages Ingram Scholars to create projects that become self-sustaining. Each scholar participates in community service projects at least 20 hours each month.
Ingram Scholars receive a minimum of full-tuition and a stipend for a summer project. In cases of demonstrated need, additional financial aid may be provided.