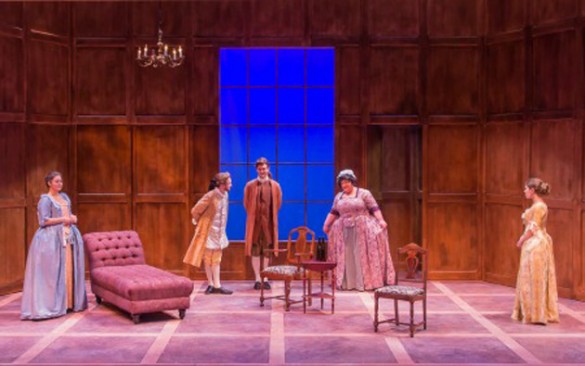 Just in time for Valentine's weekend, Vanderbilt University Theatre will open The Beaux' Stratagem, a romantic comedy of manners.
The Vanderbilt production begins Friday, Feb. 13, at 8 p.m. in Neely Auditorium. Evening performances continue Feb. 14, 19, 20 and 21. There will also be a 2 p.m. matinee on Feb. 15.
The Beaux' Stratagem, which takes place in Lichfield, England, tells the story of two young men, Aimwell and Archer, looking for love and fortune after living too lavishly in London. They pose as master and servant, exchanging roles throughout their journey. In Lichfield, they meet the lovely and wealthy Dorinda and her equally attractive sister-in-law, Mrs. Kate Sullen. However, as in life, there can be many obstacles to true romance.
The Vanderbilt production is directed by Jon Hallquist, associate professor of theatre. "Working on this play affords us with the opportunity to explore a different style other than traditional realism," Hallquist said. "Actors have the opportunity to fill larger-than-life, two-dimensional characters and pursue active acknowledgment of the audience."
Phillip Franck, associate professor of theatre, is the scenic, lighting and sound designer, while Matt Stratton, senior lecturer of theatre, serves as technical director. "[rquote]They deliver an extensive Georgian set with hidden doors and flying chandeliers," Hallquist said.[/rquote] "Also, Alexandra Sargent, senior lecturer of theatre, has created a world of beautiful 18th-century costumed characters." Sargent is the costume designer for this production.
Originally written in 1707 by British playwright George Farquhar, Thornton Wilder began writing an adaptation of The Beaux' Stratagem in 1939. He never completed it, but in 2004, Wilder's estate requested Ken Ludwig to finish the project. The adaptation by Wilder and Ludwig premiered at The Shakespeare Theatre of Washington, D.C., in late 2006.
Tickets for the general public are $10. For reservations and more information, please call (615) 322-2404 or email Laura Bodin.