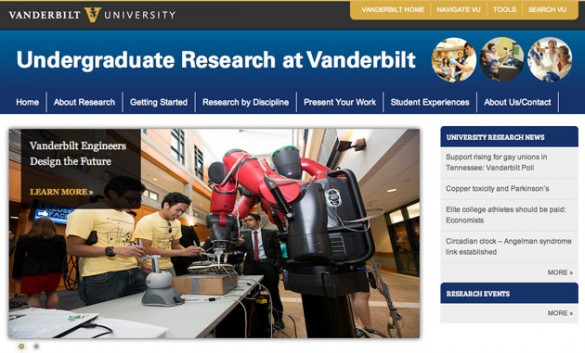 The Office of the Provost has launched a new website celebrating undergraduate research at Vanderbilt, in part to support the new strategic emphasis on the immersion experience for undergraduate students at the university.
"Vanderbilt is both a top 25 research university and a top 25 undergraduate institution, which puts us in a very select group," Vice Provost for Learning and Residential Affairs Cynthia Cyrus said. "One of the things that we can provide is the intersection of those two experiences. We give students the opportunity to participate in the production of knowledge guided by an expert in their field."
Undergraduate Research at Vanderbilt is designed to expose students to the scope of research opportunities available at the university and provide the foundation that students need to begin the research experience. The site features tips for getting started, research opportunities organized by discipline, forums for presenting work, and students' testimonials.
"I would say the most unique feature of the website is how much the voice of the site comes directly from Vanderbilt students," said Bill Smith, a master's student in Peabody College's Higher Education Administration Program and a graduate assistant in the Office of the Provost who helped develop content for the site. The website was designed, built and is supported by University Web Communications.
The Office of the Provost partnered with department representatives, associate deans, the Office of Honors Scholarships and most importantly, Vanderbilt Student Government to make the student experiences documented on the site comprehensive, engaging and informative. VSG's Academic Advising Committee created some of the content directly, and about a year ago, was instrumental in helping to survey the student population to gain a better idea of the types of research undergraduates were doing, in what quantity, and how the university could make the undergraduate experience at Vanderbilt even better.
"We wanted to capture the essence of why research is important to the Vanderbilt undergraduate experience as well as help students be proactive in creating the intellectual and integrative experiences they want to have," Smith said.
To learn more about undergraduate research at Vanderbilt, visit research.vanderbilt.edu/undergrad-research.