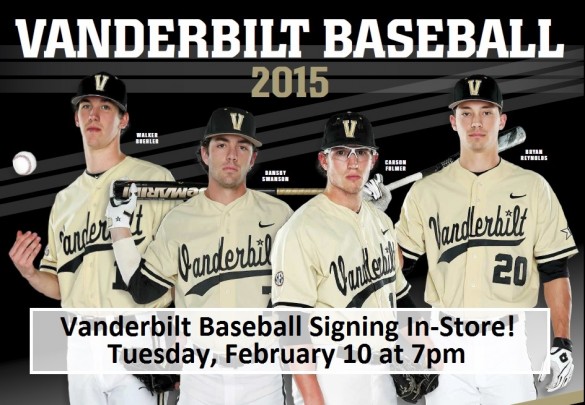 Meet Vanderbilt's head baseball coach, Tim Corbin, and several members of his National Champion team on Tuesday, Feb. 10, at 7 p.m. at Barnes and Noble at Vanderbilt.
Corbin, along with players Bryan Reynolds, Carson Fulmer, Dansby Swanson and Walker Buehler, will be on hand to pose for photos with fans, show off the National Championship Trophy and sign autographs.
Free baseball posters will be provided by Vanderbilt Athletics. In addition, several National Championship baseball items will be for sale, including baseballs, for autographs.
Refreshments will be provided by Ruth's Chris Steakhouse and the Barnes & Noble at Vanderbilt Cafe.
Arrive early. This event is free and open to the public. FREE PARKING in the 2525 garage.
Contact: John Lasiter, (615) 343-2665
John.Lasiter@Vanderbilt.edu