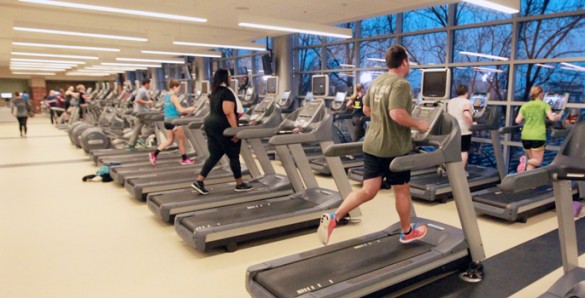 Check out all the new programming at the VRWC.
Couch to 5k and Half Marathon Clinics
Feb. 9—April 2
Whether you are brand-new to running or getting ready for race season, join VRWC fitness associates Wade Evans and Tony Lewis for an eight-week training program that includes weekly training schedules and instruction. Every participant receives a Country Music Marathon registration discount, and four lucky winners will receive their CMM entry on us.
Indoor Triathlon
March 22 is the big event date, and registration ends March 16. Beginners and seasoned triathletes receive individual leg practice days as well as a full run-through of the course prior to the event.
Beginner and Advanced Boxing
Join certified USA Boxing coach Tramaine Crook for eight weeks of skill building that will teach you everything from basic footwork to breath technique to power punching. Beginner and advanced levels (no contact). Deadline to sign up is Feb. 6.
Meet the Trainers
Test your form and play games for goodies. Sign up for group matching. Raffle for prizes and more. Check out the dates and locations on our website.
Personal Training: "New Year, New You" promotion
Receive two fitness assessments, two one-hour personal training sessions and
 two nutritional counseling sessions, all for $200.
Preva Login Challenge
Feb. 1—March 31. Log in to a Preva networked cardio machine 25+ days to win prizes.
Plank of Fame
The first fitness challenge of the spring is here. Collect 15,000 plank minutes by the end of February. To contribute your time, see a VRWC fitness attendant. Prizes for the top male and female.
Running Buddy Classifieds
Interested in finding a running partner(s) with similar skills and interests? Check out the webpage to sign up (password necessary to log in).
Contact: Jennifer E. Ray
jennifer.e.ray@vanderbilt.edu