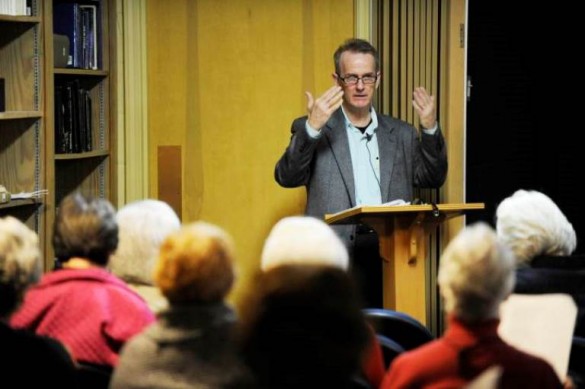 Poets Mark Jarman and Jane Hirshfield will discuss the craft of writing during the Saturday University program this spring at Vanderbilt University.
Saturday University's "Rhyme and Reason: Conversations on the Craft of Writing" series is open to the general public. Admission is $75 for three sessions – with Jarman appearing March 28 and April 25 and Hirshfield April 18. The sessions are held in Cohen Memorial Hall, 1220 21st Ave. S., from 9:30 to 11:30 a.m. on Saturday mornings. Parking is available in the lot behind Cohen Memorial Hall adjacent to 21st Avenue South.
To register for Saturday University, fill out the registration form and return with $75 check or money order to:
Vanderbilt Saturday University
c/o Professor Martin Rapisarda
311 Kirkland Hall
2201 West End Avenue
Nashville, TN 37240
Jarman, Centennial Professor of English at Vanderbilt, has published eight collections of poems, a book-length poem and two collections of essays on poetry. Honors for his work include a Guggenheim Fellowship, three grants from the National Endowment for the Arts, the Joseph Henry Jackson Award from the San Francisco Foundation and the Lenore Marshall Prize from the Academy of American Poets and The Nation magazine.
Hirshfield is the author of several collections of verse, including Come, Thief, After and Given Sugar, Given Salt, a finalist for the National Book Critics Award. She has also published two anthologies of poetry by women and a collection of essays, Nine Gates: Entering the Mind of Poetry. Hirshfield's awards include fellowships from the National Endowment for the Arts, the Rockefeller Foundation and the Guggenheim Foundation.