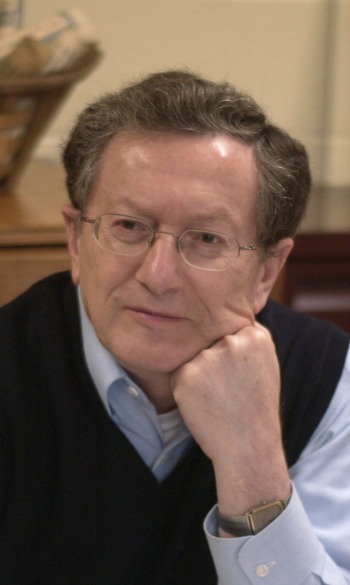 Students and colleagues of Jack M. Sasson recently feted the Mary Jane Werthan Professor of Jewish Studies and Hebrew Bible at Vanderbilt University on the occasion of his "last tango" (final class lecture).
Although Sasson, the founding director of Vanderbilt's Program in Jewish Studies, has taught his last class, he will continue his scholarship in Assyriology and Hebrew Bible. Last May, Yale University Press published Sasson's Judges: 1-12, A New Translation, with Introduction and Commentary. "That book ended up only covering the first 12 chapters of Judges because I had so much material," Sasson said. "Now I need to start with Samson and focus on chapters 13-21.
Sasson has just now completed a volume that translates and annotates more than 700 letters and administrative documents from the clay tablets found at the Middle-Euphrates town of Mari. Information gleaned from the tablets provides an informed perspective on life in Mesopotamia in 18th century B.C.E.
"Assyriology is the study of cultures of the ancient Near East that used cuneiform, a style of writing on clay tablets," Sasson said. "What is sadly fortunate about this is that when ancient cities were destroyed, the clay turned to rock and the tablets ended up being preserved, with all their writings. Therefore, we can now inspect thousands of documents that tell us much about the lives they led—from what they thought to how they conducted themselves. It's an extremely rich treasure house of information."
Sasson works specifically on Mari, which was destroyed around 1760 B.C.E. There is a huge correspondence that the kings had with diplomats, administrators and even with members of their own family.
"One example of the interesting tidbits we derive from the tablets concerns a letter that a king wrote to his wife while he was away from home," Sasson said. "The king writes (and I paraphrase), 'I have heard that the woman named Nana who lives in the palace is very sick. From what I have been told, no one must use her cup, sit on her chair, or lie on her bed; she has a highly contagious disease.' So around 1765 B.C.E., people clearly knew about the serious problem of infection and the importance of isolating those who are ill."
The archives give detail on ancient marriages and other diverse aspects of personal lives. "We learn how wars were conducted, treaties established and gods worshiped," Sasson said. "Dreams and prophecies are recorded. We have details about their meals and the performance of music at banquets. The archives allow us not only to reconstruct the society of that time, but also to understand better the world from which the Hebrews developed."
Last July, Sasson was inducted as a member of the Honorary Council of the International Association for Assyriology. The announcement was made during the association's annual meeting and the 60th Rencontre Assyriologique Internationale, a yearly conference open to all those interested in Assyriology and Near Eastern archaeology.
When Vanderbilt hired Sasson in 1999, he had taught for 33 years at the University of North Carolina at Chapel Hill. "Around the time I arrived on campus, Vanderbilt was a distinguished regional university and gaining stature as a national organ of higher education with a pronounced internationalist perspective," he said. "One of the ways the administration wanted to increase student diversity was to create an interdisciplinary program called Jewish Studies that would work with other departments in the College of Arts and Science. Since I had experience running a department at Chapel Hill—and for other reasons I suppose—I was invited to launch the program. I am pleased how much it has grown and prospered."
Sasson emphasized that Jewish Studies is not only for Jews. "[lquote]A good Jewish Studies program establishes a ground base through which to explore how civilization developed," he said. "It creates an interdisciplinary mode for connecting with diverse aspects of many cultures."[/lquote]
At the Divinity School, Sasson taught a variety of courses, including Introduction to Hebrew Bible, the book of Genesis, and the Hebrew and Akkadian languages. "When you teach an ancient language, you give your students a bridge to the past," Sasson said. "The same rules that applied to a writer from long ago now apply to you, as you unlock the meaning of what the writer was trying to convey."
Sasson noted that intellectual rigor combined with a commitment to social justice make Vanderbilt Divinity School a very special place for teaching and pursuing scholarship. "I am most proud," he said, "to have held a chair named after Mary Jane Werthan, the first woman to sit on Vanderbilt's Board of Trust."
Sasson's scholarship will benefit future generations of students and faculty researchers on the ancient Near East and Hebrew Bible, as he has donated a large part of his personal library to Vanderbilt Divinity Library. The collection has more than 2,600 volumes, with titles dating from as early as 1801.
In addition, classical music aficionados can explore his extensive collection of CDs and LPs that has a new home at the Blair School's Anne Potter Wilson Music Library. The collection will eventually contain approximately 2,500 compact discs and 600 vinyl records. Rare ethnic musical recordings from his international travels are included.
This spring, Sasson and his wife, Diane Sasson, who has served as a lecturer in woman and theology, will relocate to Chapel Hill, North Carolina, to be closer to family.