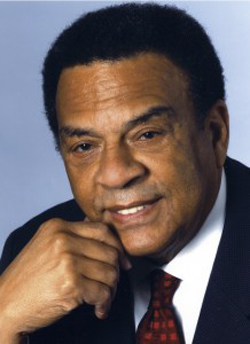 Andrew Young, civil rights leader, former U.S. ambassador and chair of the Andrew J. Young Foundation, will deliver the keynote address at Vanderbilt University's MLK Day celebration Monday, Jan. 19. The theme for Vanderbilt's commemoration is "Dismantling Segregation: Race, Poverty and Privilege."
The evening will begin at 6:30 p.m. in Langford Auditorium with student performances, including the winners of the university's annual MLK essay contest for middle and high school students reading their winning entries. The event is free and open to the public, but tickets are required. A maximum of four tickets per person may be picked up at Sarratt Box Office in Sarratt Student Center. For ticket availability, call (615) 322-2425. Tickets cannot be held or reserved.
Young's first career, that of an ordained minister, began at the Bethany Congregational Church in Thomasville, Georgia, in 1955. He would continue his call to serve as a civil and human rights advocate, a U.S. congressman, mayor of Atlanta and a United Nations ambassador. His leadership of the Atlanta Olympic games, his advocacy of investment in Africa through GoodWorks International, and the establishment of the Andrew J. Young Foundation also exemplify his commitment to service.
Young was a key strategist and negotiator during the civil rights campaigns in Birmingham and Selma that resulted in the passage of the Civil Rights Act of 1964 and the Voting Rights Act of 1965. In 1972, Young was elected to the U.S. Congress, the first African American elected from the deep South since Reconstruction. He served on the Banking and Urban Affairs and Rules committees, sponsoring legislation that established the U.S. Institute for Peace, The African Development Bank and the Chattahoochee River National Park, while negotiating federal funds for MARTA (Metro Atlanta Rapid Transit Authority), the Atlanta highway system and a new international airport for Atlanta. In 1977, President Carter appointed Young to serve as the nation's first African American ambassador to the United Nations, where he negotiated an end to white-minority rule in Namibia and Zimbabwe.
Young served as mayor of Atlanta during a recession and a reduction in federal funds for cities. He turned to international markets for investments in the city, attracting 1,100 new businesses, $70 billion in investment, and adding 1 million jobs to the region.
Young has received honorary degrees from more than 100 universities and colleges in the United States and abroad. President Carter awarded him the Presidential Medal of Freedom, and France awarded him the Legion d'Honneur – both awards are the highest civilian honors in these nations. He has received an Emmy Lifetime Achievement Award, and in 2011, his portrait became part of the permanent collection of the Smithsonian National Portrait Gallery. President Clinton appointed him founding chair of the Southern African Enterprise Development Fund.
Young is the author of three books: A Way Out of No Way, An Easy Burden and Walk in My Shoes.
The keynote event featuring Young is one of a number of activities happening on campus to commemorate the life and legacy of King. A noon luncheon on Friday, Jan. 16, at the Bishop Joseph Johnson Black Cultural Center will bring the campus community together to officially kick off commemoration events. Members of the Vanderbilt community also will participate in an "MLK Weekend of Action" Friday, Jan.16, through Sunday, Jan. 18. Organized by the university's Office of Active Citizenship and Service, Vanderbilt students, faculty and staff are encouraged to participate in projects that address specific community needs.
On the official MLK holiday on Monday, Jan. 19, Vanderbilt is providing shuttle buses to and from campus for its students who wish to participate in the Nashville MLK Day march. Again this year, Nashville Freedom Rider and former Metro Council member Kwame Lillard will conduct a tour for students of significant sites in the Nashville civil rights movement. A lunchtime symposium featuring Georgetown University law professor and Vanderbilt alumna Sheryll Cashin and afternoon teach-ins also will be available to the campus community on the holiday.
Following Young's talk at the keynote event in Langford Auditorium is a book signing in the lobby and the university's annual candlelight vigil at 8:10 p.m.
A full list of Vanderbilt's commemorative events and details can be found on the university's Martin Luther King Jr. Commemoration website, www.vanderbilt.edu/mlk.