Young cellists perform National Anthem at Memorial Gym
Jan. 9, 2015, 3:58 PM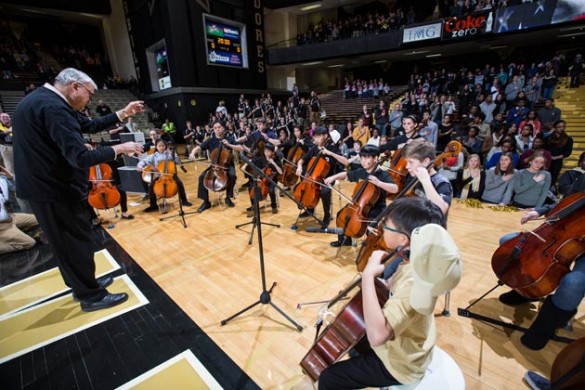 The Blair School of Music's precollege cello choir, joined by the Blair String Quartet's and Blakemore Trio's Felix Wang, performed the National Anthem prior to the Vanderbilt vs. Tennessee women's basketball game Jan. 5 in Memorial Gym.
The Blair Cello Choir is composed of a select group of advanced precollege students ranging in age from 8 to 15 from the Blair Suzuki Cello Program. Kirsten Cassel Greer, adjunct artist teacher of cello, serves as director.
The choir was conducted on Jan. 5 by David Cassel, Kirsten's father and adjunct associate professor of music at Blair, who wrote a special arrangement of The Star-Spangled Banner for the group to perform.