Diabetes Prevention Program will help you make a change for life
Jan. 8, 2015, 11:09 AM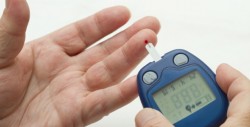 Health Plus will soon begin a second session of the National Diabetes Prevention Program, which is proven to prevent or delay type 2 diabetes through group sessions with a trained lifestyle coach.
The program's focus is on developing skills to lose weight, be more physically active and manage stress. The yearlong program provides consistent follow up to help participants maintain healthy lifestyle changes and have fun along the way.
Read this testimonial from Jozee Schnitker, senior executive secretary in Clinical Pharmacology in the Division of Medicine:
"I've struggled with weight all my life and have a strong family history of diabetes. A year ago, I learned that I was on track to become diabetic. When I learned about the Health Plus Diabetes Prevention Program, I was ready to make a change. I've lost about 40 pounds and am excited that I've finally found the tools to make health a priority. If you are considering joining the program, do it! The coaches are wonderful and it's great to have co-workers that you might see around campus and share together."
If you have pre-diabetes or a history of gestational diabetes during a previous pregnancy, contact Health Plus for more information. Email health.plus@vanderbilt.edu or call (615) 343-8943.
Learn more about the Diabetes Prevention Program or listen to the Wellcast interview.
Attend an information session:
Jan. 12, 11:30 a.m.–noon
Vanderbilt Recreation and Wellness Center Demonstration Kitchen
Jan. 14, 7–7:30 a.m.
Vanderbilt Recreation and Wellness Center Demonstration Kitchen
Jan. 15, 5–5:30 p.m.
Vanderbilt Recreation and Wellness Center, Room 6A
Health Plus is part of Faculty and Staff Health and Wellness.