Energy conservation urged as temperatures plummet
Jan. 7, 2015, 8:30 AM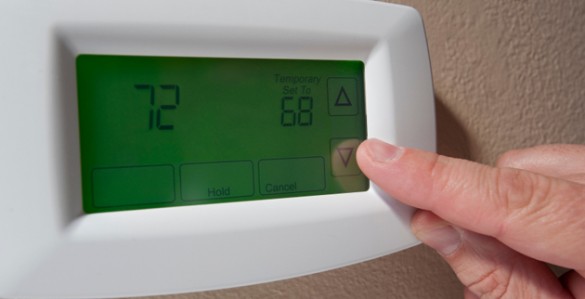 A polar vortex will bring bitterly cold weather to Nashville this week and with it an unusually increased demand for energy on campus. The demand is expected to peak between 9 a.m. Wednesday and 9 a.m. Friday.
Plant Operations is asking the Vanderbilt community to take small steps for the rest of the week to help reduce pressure on the campus' energy infrastructure during this bout of extreme weather, including:
Moderating thermostats settings to 68° F. Lower thermostats in classrooms, offices, conference rooms and other areas overnight.
Opening window shades or blinds during the sunniest part of the day to let sunlight help warm indoor areas.
Turning off lights in your work space when you leave, even if only for a short period of time.
Turning off lights to common areas such as kitchens, bathrooms, break rooms, classrooms and conference rooms when not in use, especially at the end of the day.
Turning off office equipment when not in use. If allowed in your area, computers, printers, copiers and scanners can be turned off when you leave for the day. Otherwise, activate sleep modes and energy-saving settings. If you are not sure how to do this, please visit www.vanderbilt.edu/sustainvu for instructions.
Closing fume hood sashes when not in use. A single fume hood running 24 hours can use as much energy as a single-family home uses in a year.
Vanderbilt University Plant Operations, Vanderbilt University Medical Center Plant Services and the Sustainability and Environmental Management Office thank you for your help and cooperation with these conservation efforts.
If your office or area seems unusually hot or you have trouble regulating the temperature, please call VU Plant Operations at 344-9675 or VUMC Plant Services at 322-2041.