SEIG'S LEGACY
I was delighted to see your salute to my old boss, John Seigenthaler ["A Precious Gift"], in the Prologue section of the summer issue.
I went to work at The Tennessean during the fall of 1958 at the same time I started as a student at George Peabody College for Teachers. I went from copyboy to reporter and columnist before I moved to Georgia in July 1964. During that time "Seig" (we dared not call him John) joined the Kennedy administration and then came home to edit the newspaper.
During the spring of 1964, the powers that be of the civil rights movement (I never knew who) decided to launch a region-wide series of marches and sit-ins throughout the South. The effort depleted the local ranks of leaders and marchers. In Nashville most of the participants were grammar-school kids.
The newspaper's city editor, Ed Freeman, called me to the desk and told me I was assigned the story. I responded with a one-word expletive that relates to evacuation. No, no, he said: Seig had picked me because "with Carden, we'll know that we will know what's really going on." It was high praise.
I still consider that the highest compliment I've ever received—and I've tried my best to live up to it throughout my career as a lawyer and judge.
THE HON. PAUL CARDEN, BA'63, Canton, Georgia
---
EDIFICE COMPLEX
I was particularly impressed by the Vanderbilt Magazine articles about Vanderbilt family residences and commercial projects [Summer 2014, "Vanderbilt Slept Here"] and the influence of Edward Durrell Stone on the Vanderbilt campus ["Legacy of Stone"]. The fact that so many of the Vanderbilt mansions and other buildings have survived the wrecker's ball is remarkable. I'm not sure what that fact indicates—that their projects were so symbolic of their time that they quickly assumed landmark status or that the masses are simply mesmerized by the grandiose indulgences of those with unlimited resources and huge egos.
As to Stone, it was gratifying to learn that we owe the tranquility and human scale of the campus to his planning, but I don't think anyone these days would shower most of his buildings with critical acclaim. Thanks for two very attractive and enlightening pieces.
RUSSELL L. SMITH, BA'68, Washington, D.C.
---
I thoroughly enjoyed the summer edition, which offered a wide variety of articles to please many tastes. I was surprised that Rand Hall was completed in 1953. When I left in 1952, I didn't notice any groundbreaking. It must have been built very quickly.
On another track, I attended a recent reunion of my military compatriots, and the guest speaker was Col. Jim Gruny, BA'89. In conversations with other attendees, I learned that the father of a friend of mine had attended Vandy, another has relatives who teach at Vandy, and a third has children attending. It's a small world after all.
ROBERT H. SMITH, BE'52, Oceanside, California
---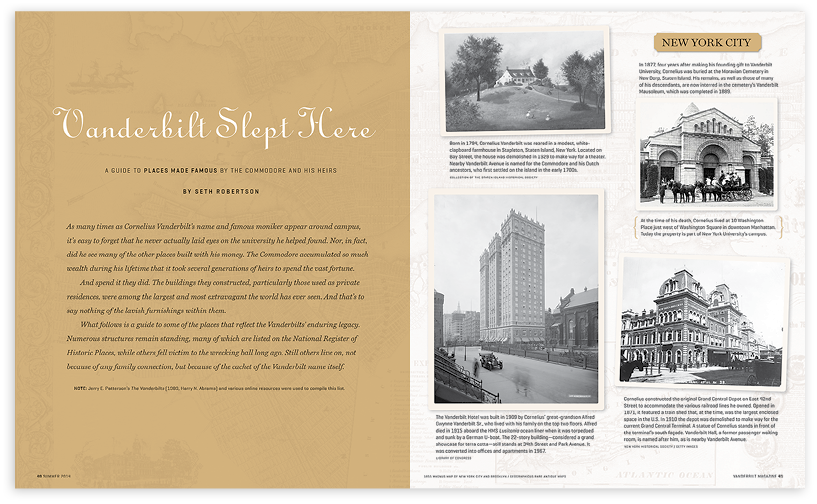 Thank you for the wonderful Summer 2014 edition. I love to read how Vanderbilt students and graduates are making the world a better place.
One disappointment: It makes me sad to see the celebration of the Vanderbilt family's visible legacies: big houses. How about an article about things the Vanderbilt family has done or is doing to make the world a better place? How about a list of Vanderbilts who actually attended the university, or even came to Nashville (other than those formally invited by the university)?
I applaud this and previous editions—keep it up. I hope the next time you are reviewing submissions, you have the courage to strike the word "cachet" when referring to Vanderbilt University.
JOHN DREW ROBERTS, BE'58, Waxhaw, North Carolina
EDITOR'S NOTE: For our quick guide to the Vanderbilt family's far-reaching university philanthropy, check out the End Sheet in the Winter 2014 issue.
---
LAWFUL SELF-DEFENSE
I was pleased to see that the Q&A with Dr. Jonathan Metzl [Summer 2014, "Fear Factor"] contained some much-needed perspective on the actual likelihood that mentally ill people will commit violent acts. Just as it is wrong for gun-control activists to argue that all gun owners are dangerous, it is similarly wrong for anyone to argue that all mentally ill people are likely to commit acts of violence.
Unfortunately, the article was lacking in some other important but often omitted perspective regarding guns in our country—namely, that, despite the increased media coverage of mass shootings in recent years, [the number of] homicides involving firearms continues to decline to 20-year lows and, as demonstrated by numerous peer-reviewed studies, the number of times firearms are used for lawful self-defense continues to be at least an order of magnitude larger than the number of times firearms are used to commit murders in this country.
As for Dr. Metzl's assertion that we should ask "why people think they need guns in the first place," my answer is simple. Whether at a Connecticut elementary school in 2012; in a street in Ferguson, Missouri, in 2014; in a Japanese–American internment camp in the Western United States during the 1940s; in a gas chamber at Auschwitz; or in a Soviet prison camp in Siberia, the history of the past century has demonstrated that human beings—acting both as individuals and as governments (sometimes even democratically elected governments)—are capable of committing unspeakable atrocities against innocent people.
No law passed in any legislature, no advance in science or technology, no amount of dialogue or democracy will ever be able to correct the basic flaws in human nature that make certain people capable of such terrible things. I refuse to be a victim—and that is why I own guns.
MATT WHITE, BE'05, Alexandria, Virginia
---
GIRL POWER
Thank you for writing the piece about Kimberly Bryant, BE'89, and Black Girls Code [Summer 2014, "Power Generation"]. It was refreshing and eye-opening. I appreciate your magazine in my life.
JOY PARKER, BA'03, Upper Marlboro, Maryland
---
LONG TIME COMING
Last week I went to visit my son in Athens, Georgia, and to see the Vandy–Georgia football game. As I walked through the Georgia campus on the way to the stadium wearing my Vandy shirt and cap, I received a number of barbs from Georgia fans. My reply was the same to all of them: "I'll see you next spring when we play you in baseball."
Under the absolutely brilliant leadership of Tim Corbin, the Vandy baseball program is now known as one of the best in the country. We have players from 14 states. We are a premier college national program in baseball. I drove out to Omaha in 2011 and again this year for the College World Series [Summer 2014, Photo Essay, "Big Hit"].
As a 1954 alumnus, I have had my share of disappointments with Vandy athletics, which includes attending five Sweet Sixteens in basketball. But the win in Omaha this year made this old Commodore supporter the proudest he's ever been of being a Vandy alum.
Charlie Hawkins was a classmate and friend. He and I competed against each other in basketball and baseball during high school in Nashville—he for Montgomery Bell Academy and yours truly for West End High School. The picture of Lee Ann Hawkins and her family ["Pure Bliss"] brought tears to my eyes because I know how proud Charlie would have been about the continued success of the baseball program.
Tim, you have done a magnificent job—we all are so proud of you and the team.
BOB YOUNGERMAN, BA'54, JD'59, Brevard, North Carolina
---
Even though we live in Kentucky, we love the 'Dores! My wife and I recently celebrated 60 years of marriage, and three of our four children live in the Nashville area. We have season tickets for football, basketball and baseball.
I ran on Vanderbilt's track team during the mid-1950s. We were just fellows who loved to compete. I have Herc Alley, my Vanderbilt coach, to thank for making running enjoyable. I again took up jogging when I turned 40 and will surpass 45,000 miles this year. I used to compete in a lot of 10Ks and even marathons. I'm a little old for that now, but I count walking miles. I recently participated in a 5K event wearing a Vandy shirt.
BARRY BERTRAM, BA'57, JD'59, Campbellsville, Kentucky
---
---
We welcome your letters in response to contents of the magazine. We reserve the right to edit for length, style and clarity. Mail signed letters to GayNelle Doll, editor, Vanderbilt Magazine, PMB 357737, 2301 Vanderbilt Place, Nashville, TN 37235-7737; or send us an email.
---