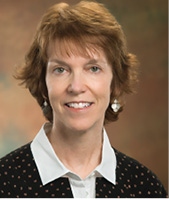 Kathleen Elizabeth Woods of Nashville died Aug. 3 at age 63. She was born in Chattanooga, Tennessee, and her father's life as an Episcopal priest and theologian took the family to Virginia, Connecticut and England—but it was Sewanee, Tennessee, that was home to Woods, informing her life with its simplicity and natural beauty.
Woods was educated at Sewanee Elementary School and Greycotes School in Oxford, England. She graduated from St. Mary's School in Sewanee, then from Hollins University, having studied at Oxford University for two years.
A natural teacher, she was fascinated and delighted by her own children's learning and became a preschool teacher at Children's House of Nashville. She followed her children to University School of Nashville, where she became the beloved head of the Lower School.
Her wide-ranging interests included literature, music, spiritual practice and the natural world. Her quiet reserve and thoughtfulness helped people of all ages feel at ease in her presence.
After her retirement from University School, Woods taught mindfulness meditation and Qigong with her husband, Gordon Peerman, DMN'90, at Insight Nashville. Her commitment to sharing mindfulness practices with people of all ages led her to convene Mindfulness in Nashville Education, a collaboration between public- and private-school educators and community members.
Woods served as a board member at University School and at St. Mary's Sewanee, a center for spiritual development. At St. Mary's she led retreats and taught in the One River Wisdom School with Peerman and Rabbi Rami Shapiro. Survivors in addition to her husband include her mother, daughter, son, stepson, three sisters, two grandchildren, her first husband, and nieces and nephews.
---