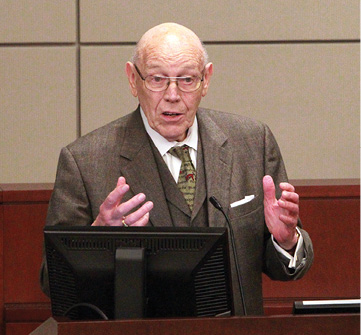 George Barrett, indefatigable Nashville civil rights lawyer, died Aug. 26 at age 86. A founding partner of Barrett Johnson Martin and Garrison, he worked on behalf of voters, laborers, investors, and other clients and groups until his final illness.
He built a busy law practice representing unions in benefit and pension litigation along with a steady stream of civil rights, discrimination and class-action plaintiffs, even once representing the Ku Klux Klan in a First Amendment case.
"I've never been part of the establishment," Barrett said in an interview for a 2012 Vanderbilt Lawyer article, "but if you live long enough, you become the respected eccentric."
In 1968 his drive for justice led him to file one of his biggest cases, Geier v. Tennessee, which resulted in the desegregation of Tennessee's state universities. Barrett and Rita Sanders Geier, JD'70, developed a novel legal theory: Under Title VI of the Civil Rights Act of 1964, the state not only had an obligation to end de jure segregation; it also had an affirmative duty to end de facto segregation. The ensuing court battle lasted 38 years, reshaped Tennessee's university system, and set the benchmark for reforms across the South that supported equal access to higher-education resources.
A lifetime Nashvillian, Barrett earned his bachelor's at Spring Hill College in 1952 and a diploma in economics and politics from Oxford University in England before earning his law degree at Vanderbilt. He was a fixture in the back pew of the Cathedral of the Incarnation every week.
Barrett is survived by three daughters, Mary Barrett Brewer, JD'86, and Kathryn Barrett Cain of Nashville and Lucy Barrett Thomason of Watertown, Tennessee; 11 grandchildren; and a sister, Sister Mary George Barrett O.P., a Dominican nun, also of Nashville.
---