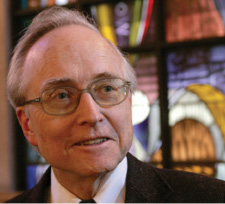 Dale A. Johnson, the Drucilla Moore Buffington Professor of Church History, emeritus, died Aug. 10. He was 78. Johnson lived in Nashville and had suffered from colon cancer.
"Dale was a quiet, serious, disciplined, welcoming colleague," says Emilie M. Townes, dean of Vanderbilt Divinity School and the E. Rhodes and Leona B. Carpenter Professor of Womanist Ethics and Society. "He paid close attention to detail and was a scholar who was well aware and respectful of the diverse perspectives people have."
A Rhodes scholar, Johnson earned degrees from Colgate University, Oxford University, and the Lutheran School of Theology. He earned a doctorate in theology from Union Theological Seminary before joining the Vanderbilt faculty in 1969.
His teaching in the area of church history spanned the period from the 16th to the 19th centuries in Europe and America. His research focused on the history of Christianity and Christian thought, the Reformation and modern European Christianity, 19th-century English religion, women in religion, and religion in America.
Johnson's publications included Women and Religion in Britain and Ireland: An Annotated Bibliography from the Reformation to 1993 (1995, Scarecrow Press) and The Changing Shape of English Nonconformity, 1825–1925 (1998, Oxford University Press), which was awarded the 1996 Albert C. Outler Prize in Ecumenical Church History.
He served as editor of Divinity School: Education, Contest and Change, a history of Vanderbilt Divinity School published by Vanderbilt University Press in 2001.
In 2003, Johnson became the first person from Vanderbilt elected to serve as president of the American Society of Church History. He received the Mary Jane Werthan Award from the Margaret Cuninggim Women's Center for his outstanding commitment to women at Vanderbilt.
Survivors include his wife, brother, two children and six grandchildren.
---