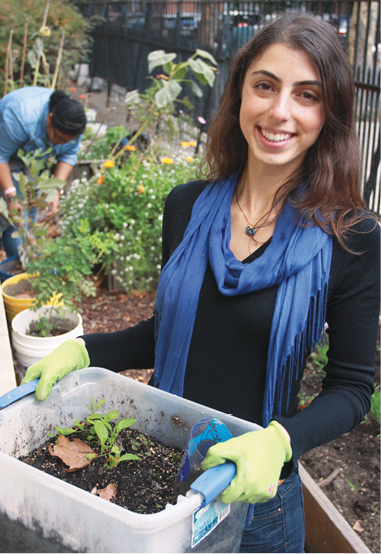 With nothing more than a willingness to make a difference and a $150 grant, high school science teacher Juliet Crupi was able to turn an inner-city after-school club into a nationally recognized program aimed at changing the relationships among her students, food and the community.
Two years ago Crupi and a colleague at Williamsburg Preparatory High School in Brooklyn, New York, started the Leaders for Sustainability club, where students could identify a need in the community and fix it. "Only two students showed up that first day, but it grew to 24," says Crupi. "By the second semester, the students had decided they wanted to garden, so we took over some land at the back of the school and now we have 62 students doing urban farming."
The goal of the club—which now earns its members class credit—is much more than planting seeds and watching them grow. Crupi and her students explore the connectivity of food, science, culture and health.
"I want them to see that they can use science to help others in their community," she says. "Vanderbilt always allowed and encouraged students to be leaders, and I want to do the same for my students. Today that experience helps me promote urban farming, which leads to grants."
Next spring a program called Garden to School Café will use the produce grown and prepared by the students at an event feeding more than 2,000 people. "We hope this event will be the start of a long-term effort to get food from the garden into the cafeteria."
—CINDY THOMSEN
---