Media Inquiries
Latest Stories
University Photographers Capture a Bird's-Eye View of the Freshman Class
Remember the last time you were at a large family gathering and tried taking a group photo? How difficult it was—especially if kids were involved—to arrange everyone, get them to stand still long enough, and smile for the camera?
Now imagine that on a much larger scale. Say, a few hundred times larger. And the photo almost entirely involves kids—18-year-olds, granted, but kids nonetheless.
That's the task assigned to Vanderbilt Creative Services at the start of every academic year. Since 2009 the university's photographers have organized a photo shoot of the entire freshman class on The Martha Rivers Ingram Commons at Vanderbilt. In all, about 1,600 students—along with the faculty heads of house and their families—gather for the photo, posing in the shape of the class' graduation year.
In the past, to get the best vantage point, the photographers perched themselves atop a rented hydraulic lift. This year they opted for a safer, more cost-effective—and, frankly, cooler—approach. Using a remote-controlled quadcopter with a camera attached, they took to the air for the iconic shot, and the result was, by all definitions, a soaring success.
---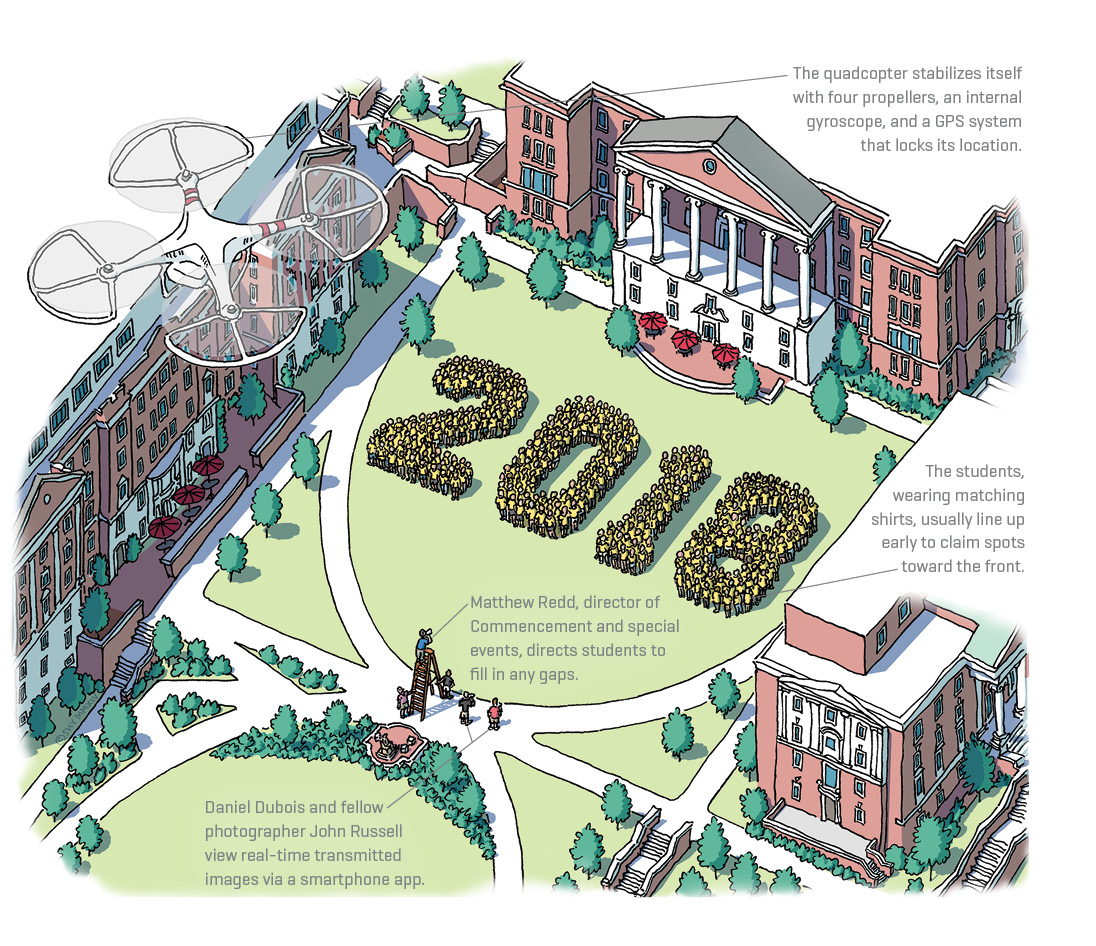 1. SCOUT LOCATION AND TEST EQUIPMENT.
"We always scout the location two weeks beforehand and notify all the proper people on campus," says Daniel Dubois, director of photography. "This year we also did several test runs of the quadcopter so we'd be comfortable flying it."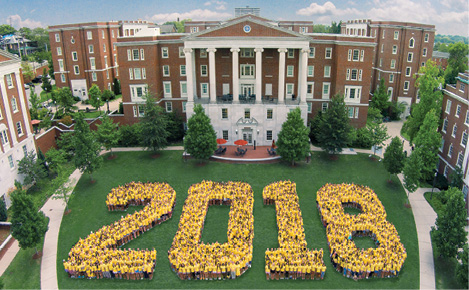 2. DESIGN 3-D LAYOUT OF NUMBERS.
"We allow for roughly 3,200 square feet, or about 2 square feet per student," Dubois says of the computer program used for designing the numbers. "What's interesting is the program helps us adjust for the angle of the camera. The layout from overhead appears distorted, but from an angle it looks just right."
3. OUTLINE NUMBERS ON GRASS.
"It takes three to four people about two hours to spray-paint the numbers on the grass," he says. "The hardest part is centering the numbers between the buildings."
4. TAKE PHOTO.
"To get the best shot, we figured out the quadcopter should hover approximately 80 feet above the Martha Ingram statue," Dubois says. "We want to be right at the roofline of Stambaugh House. That's what looks best."
---